What is Twist?
Twist is a modern communication tool that helps you work in a calmer, more organized and more productive way.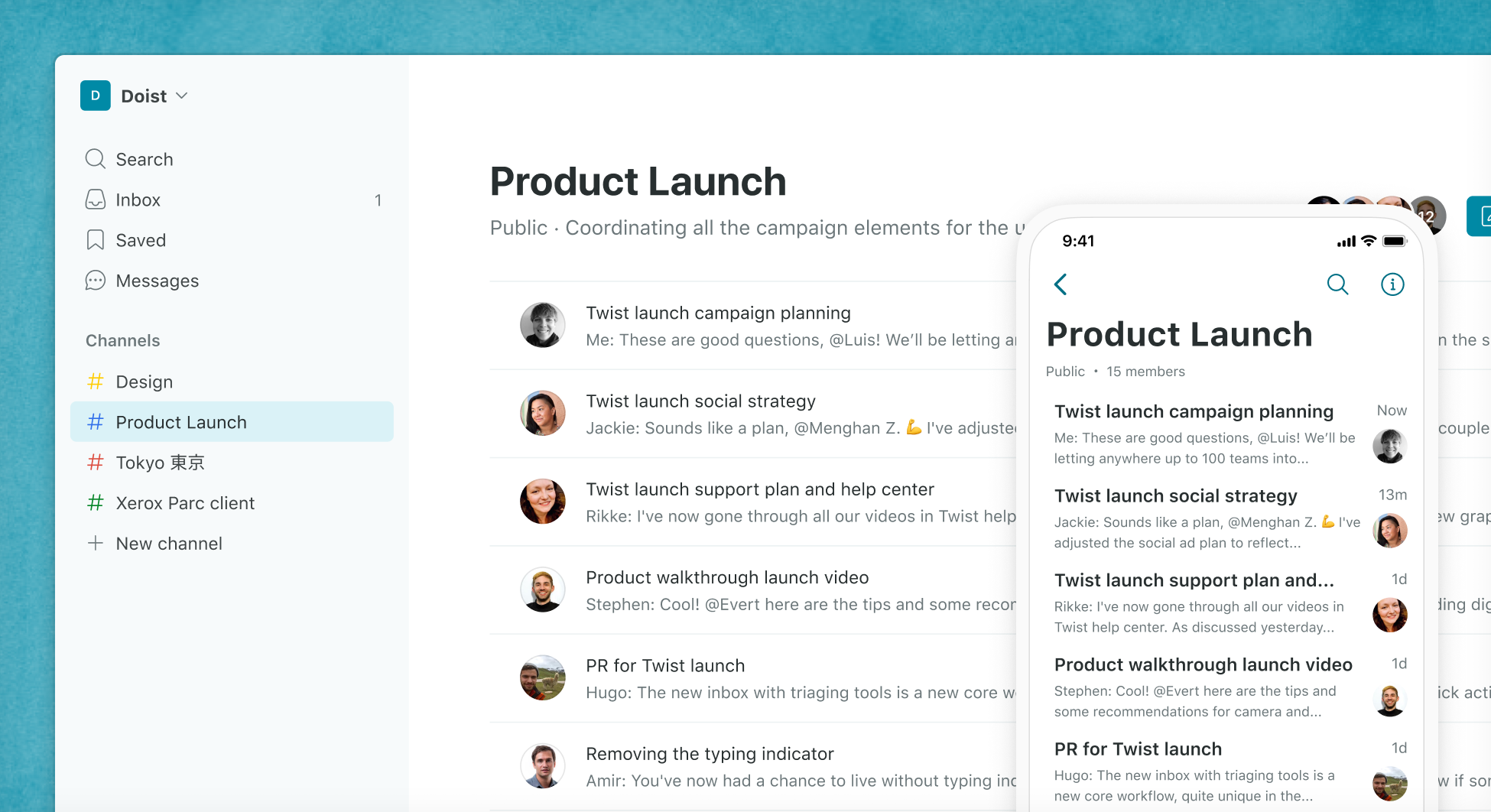 You've probably used email and group chat to communicate with your team. Maybe you still do. But there's a problem—it's really hard to keep track of important conversations and information, especially as your team grows.
Twist solves those problems. It organizes your team communication so you can work calmly and effectively. By keeping your team conversations in one place and categorized in threads, you can easily find any topic, any time on any device.
Now to help you and your team get off on the right foot, take a look at this short guide that helps explain how to:
Organize your conversations in channels based on department, project, or topic.
Join public channels or create new ones.
Start a thread inside a channel to discuss specific topics with your colleagues.
Notify the right people, set the right title, and keep everything organized and easily searchable.
Use messages for more direct, immediate collaboration with one teammate or a small group.
Customize your notifications so you're only notified when you want to be notified.
Stay connected with your team from any location by downloading Twist on your mobile device and desktop.
How it looks
Your team workspace is made up of channels. Channels are made up of threads. And threads are made up of comments.

Channels
Organize conversations by team, project, or topic
Channels let you organize your team's conversations by team, topic or whatever suits you best. Channels can be based on things like:
Specific projects (Product Launch, New Book, Android Update, etc.)
Departments (Marketing, Design, Engineering, Customer Service, etc.)
Topics of interest (Interesting Reads, GoT Analysis, etc.)
Learn how to create a channel here.
When creating a channel, you can choose whether to make it public or private:
Public Channels: Everyone on your team can see a list of the public Channels, and anyone on your team can join any public Channel.
Private Channels: Private Channels will only be visible to people who have been invited. They will not appear in the full list of your team's Channels.
Channels are made up of threads…
Threads
Start a discussion with your teammates
Threads are where team communication happens in Twist—from project planning to company-wide updates. Each thread represents a specific topic you want to discuss in-depth with your colleagues. Unlike email or group chat, Twist threads are organized, easily searchable, and allow for easy follow up.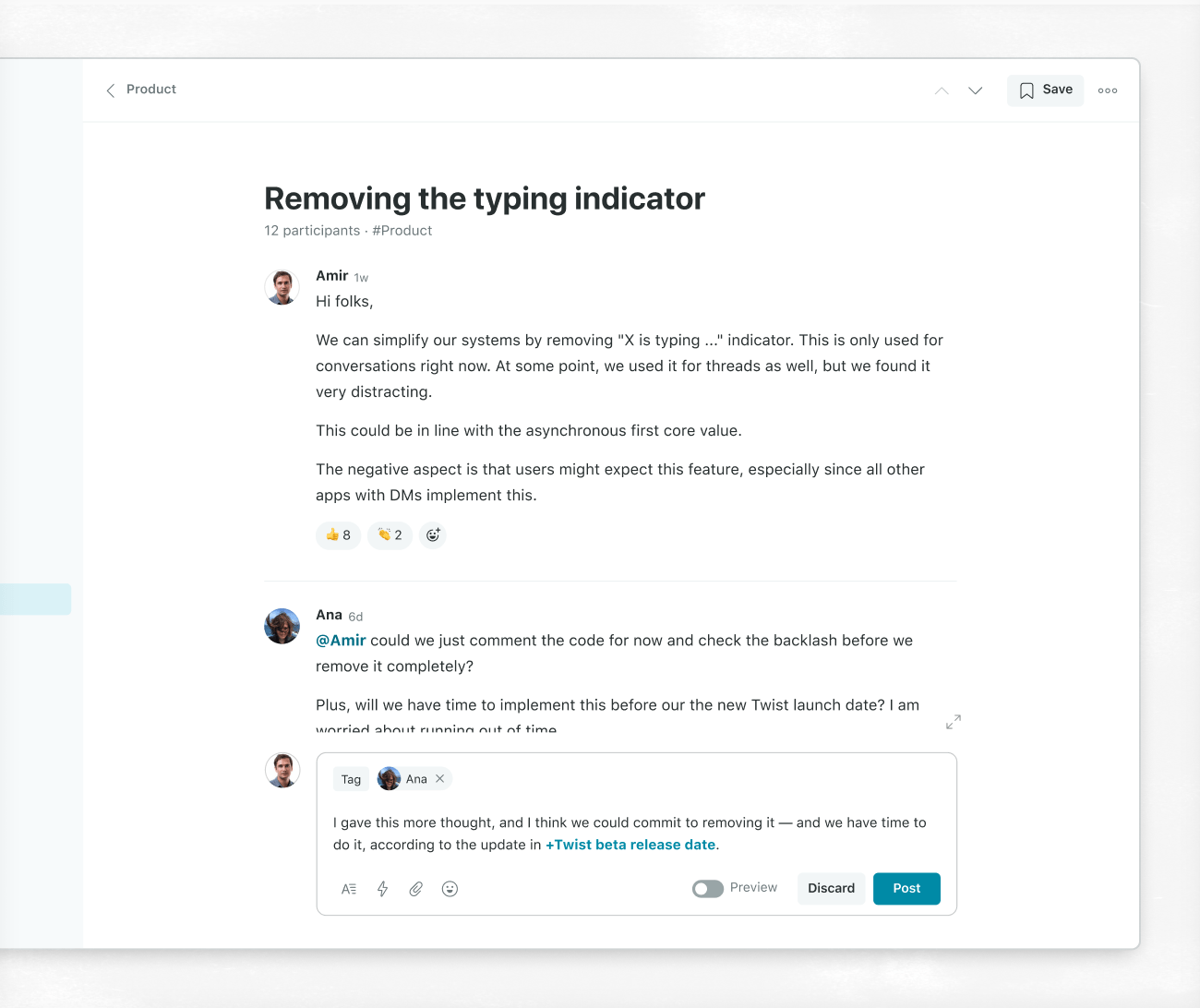 Say you have a new project idea to propose to your team, or you've encountered a tricky problem that requires detailed problem solving. Simply create a new thread, add a descriptive subject line, and write the message you'd like to share. If you want to attach a file, drag-and-drop to include any PDFs, documents, spreadsheets, or images.
Any channel member can read and comment on your thread. The various threads in the channel jump to the top of the queue as they're updated.
You can think of threads like email chains – only organized, transparent, and don't kill a small piece of your soul every time you open them up.
Inbox
Catch up on the latest threads
Your Inbox is a feed of all the threads you're participating in. Any thread you created, commented on, or were tagged in will show up here when it is updated. Anything you haven't read yet will appear at the top.
Saved
Save important threads for easy access
The Saved tab is a list of threads that you've saved for easy access and reference. Perfect for threads you aren't participating in, but want to keep an eye on. Or threads that contain a lot of useful information you frequently need to revisit.
Notifying people and groups
Loop in the right team members
When creating a new thread or comment, you can choose to notify specific people or groups of people to be included in the conversation. Notifying people makes sure that your new comment will show up in those people's Twist inbox as unread.
You can choose to notify:
Everyone in Channel: This option is best used sparingly for very important news and updates.
Everyone who interacted: Everyone who has previously participated in that specific thread.
Individual team members: Just choose their names from the drop-down list.
Groups: Subsets of team members who often need to be notified about the same topics (eg, Android Team, Marketing Team, Support Team, etc.).
Creating Groups
You'll probably find yourself needing to tag the same group of people over and over again – like the Marketing Team or the Support Team. Groups let you notify several people without having to add them one-by-one on every comment.
Any team admin or member can create a group. Learn how to here.
Whenever you create a thread or comment that involves that group of people, just select the group name from the list to tag everyone at the same time.
Messages
For when you need direct communication
Sometimes you need to communicate with a teammate in real time. That's where messages come in.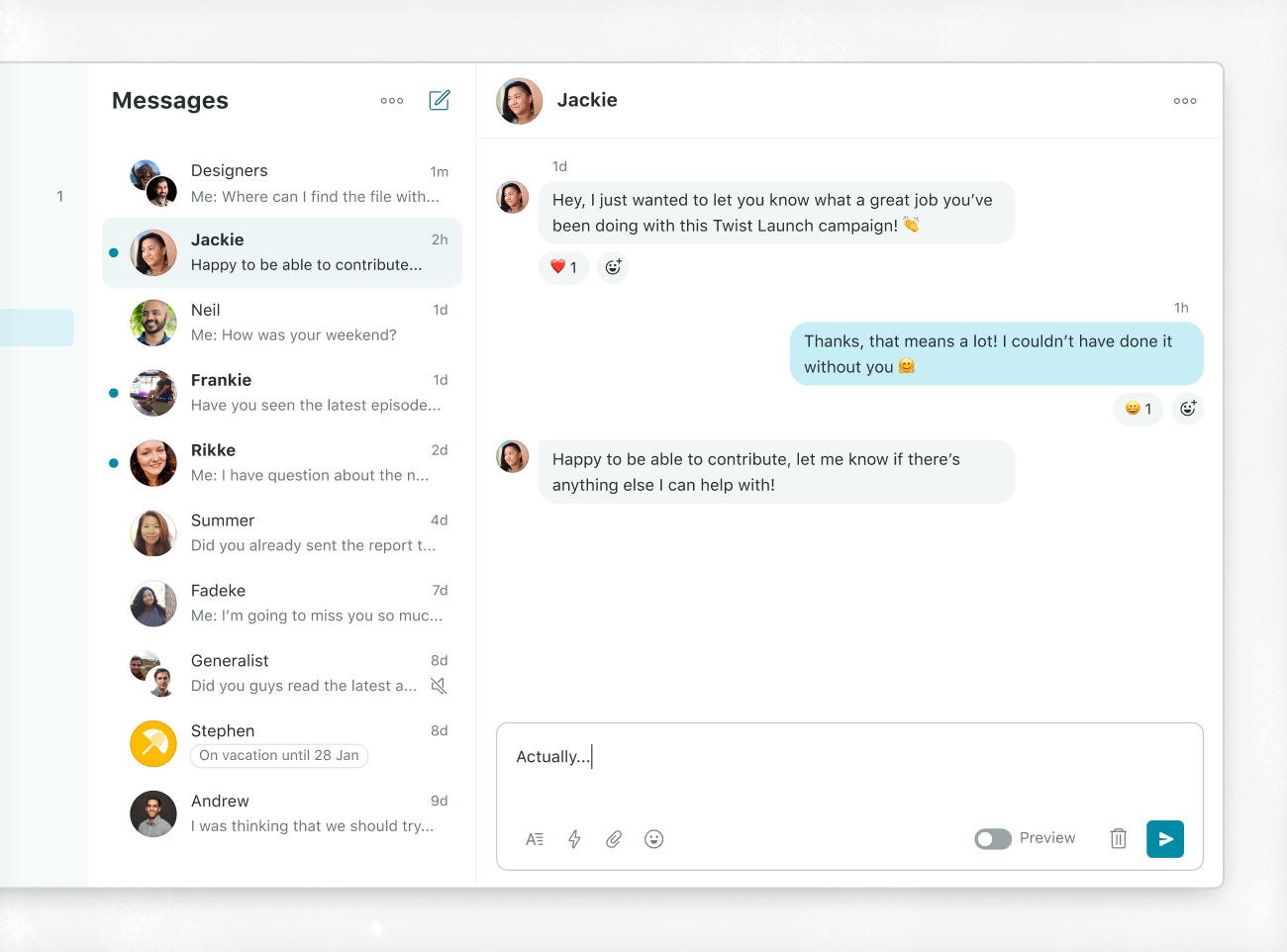 In messages, you can start a conversation with one team member in a 1-on-1 chat, or you can select a handful of team members for a group chat. Everyone included in the chat will be notified when a new message is posted.
Threads vs. Messages
When you have an ongoing topic to discuss with several people and don't need an immediate response, create a thread.
When you need to communicate quickly with one person or a small group of people, use messages.
When in doubt, start a thread. Everything will stay transparent and searchable later so your team's collective knowledge base will continue to grow.
Your notifications
Complete control over when & where you're notified
In today's always-on workplace, people who make time for focused, deep work have a huge competitive advantage. In Your Settings, you can customize your Twist notifications for complete control over when, how and for which events you get notified.
You can also choose where you want to receive your Notifications – on desktop, mobile or via email. Finally, you can snooze all notifications for up to 8 hours for when you need to get into deep work.
Take your team's conversations with you
Get Twist on all of your devices
With apps for macOS, Windows, iOS, Android, Linux, and the web, your team conversations will stay synced across all your devices. Always.
Learn more
Want to learn more? Here are some guides to get you started:
If you need help or want to learn more about Twist's features, visit our
Twist help center
to get answers, beginner's guides, best practices and more.