Priority unreads, favorite channels, and more: May 2023
We started this product cycle with a simple question: How can the inbox work harder to organize and prioritize your threads, so you can catch up fast and win back time in your day for everything else
Along the way, we also took the liberty of addressing a few of your (and our) biggest pet peeves and requests (like hiding closed threads).
We've been using this new Twist internally for a couple months now and we can't imagine going back. Here's what to keep an eye out for:
Threads neatly organized by date
Comfortably skim the geologic record of your team's threads going back in time: Latest → This week → Last week → This month → This year → 2022, etc. (As an added bonus, you can see just how long that thread you've been meaning to reply to has been gathering dust in your inbox 🕸😅).
We initially conceived of date groupings as a better way to organize the inbox, but we found it incredibly useful when browsing channels, so we added them there, too.
Adding channels to "Favorites"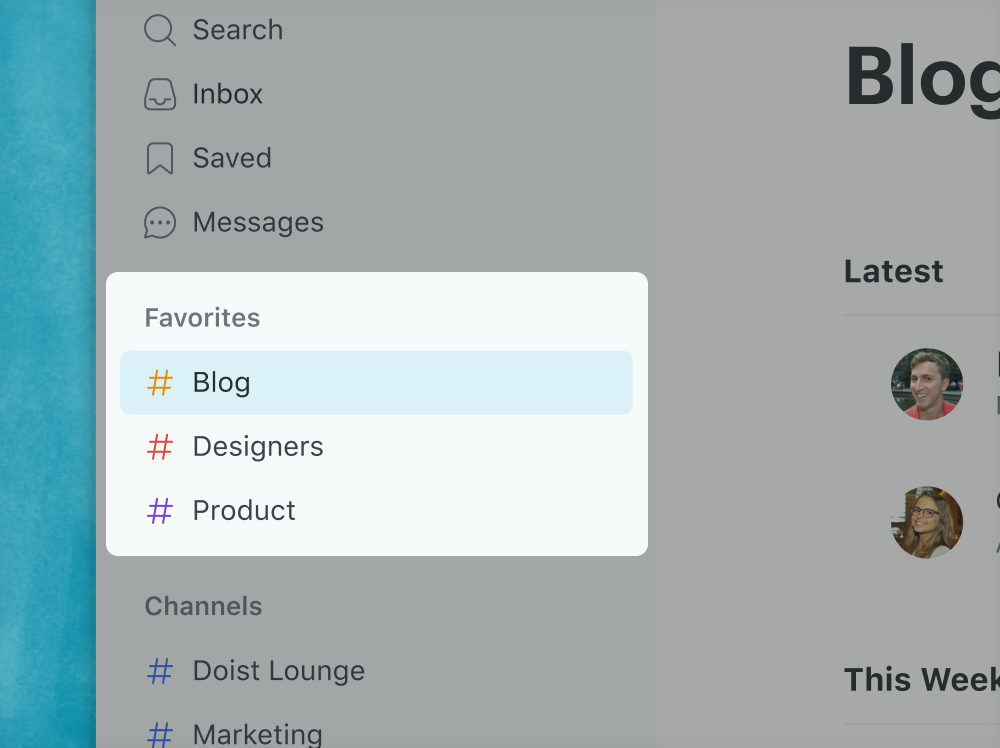 Some channels are more important than others. Keep tabs on the ones you're most interested in by adding them to favorites.
What's that got to do with a better inbox? So glad you asked…
"Priority Unreads" at the top of your inbox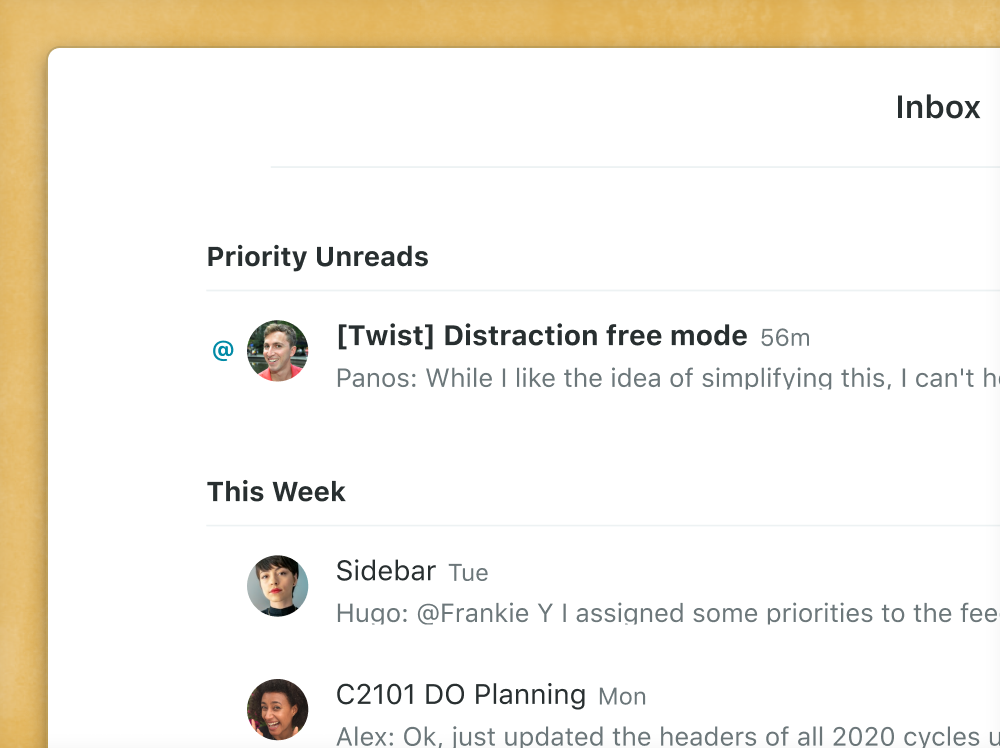 Quickly spot and respond to the things that need your attention most, then come back to the rest later. "Priority Unreads" will include:
Unread threads you've been @ mentioned in
Any unread threads you've been tagged in from channels you've favorited
A few other odds and ends
Hide closed threads. Due to popular demand, closed threads are now hidden in channels by default. They'll still show up in search and you can toggle them back in anytime.
Mark threads done from inside channels. We added a "Mark done" button to threads everywhere so you can get them out of your inbox even if you aren't actually in your inbox.
Lots of bug fixes & refactoring. That's dev speak for spring cleaning our code. We even bid a fond farewell to some of the original Twist code from all the way back in 2014 🪦
Twist Tip: How to hack "focus mode"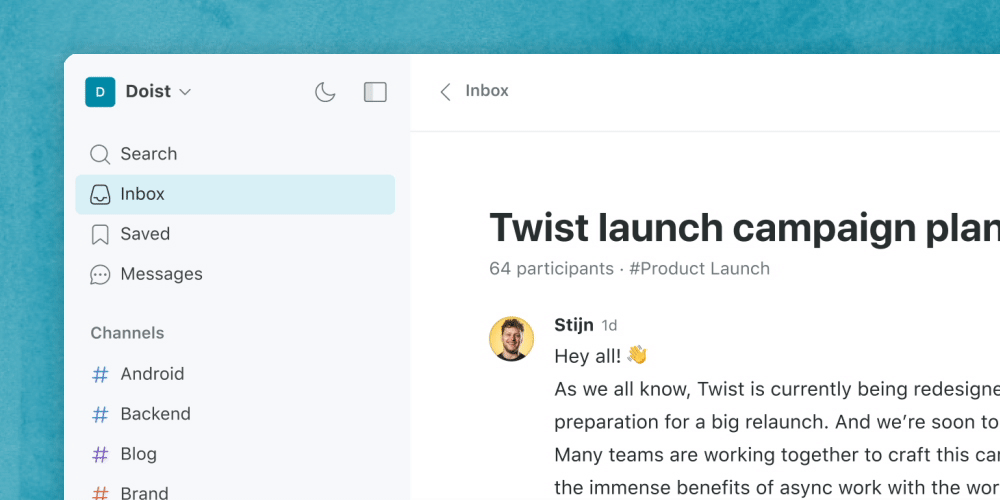 Another big pain point we have when collaborating asynchronously is needing to reference something in Twist and inadvertently getting pulled into new threads and messages.
Our product design team has gone to great lengths to make the new activity counter as unobtrusive as possible (i.e., no big red dots screaming for your attention), but it's human nature to reflexively check in on what's new. While the team discussed a more official Focus Mode, we haven't had the resources to build it (yet).
In the meantime, Amir (our CEO) shared his way of hacking focus mode: Simply hide the sidebar and use keyboard shortcuts to navigate Twist instead. It takes some getting used to, but once you commit the shortcuts to muscle memory, it's like magic. Here are some of the most useful ones:
Toggle the sidebar: ⌘ + \
Open search: /
Go to inbox: g then i
Go to messages: g then m
Asynchronously yours,
The Twist Team
Upgraded image sharing, resized search pane: Aug 24
Copy and Paste Multiple Inline Images 🖼️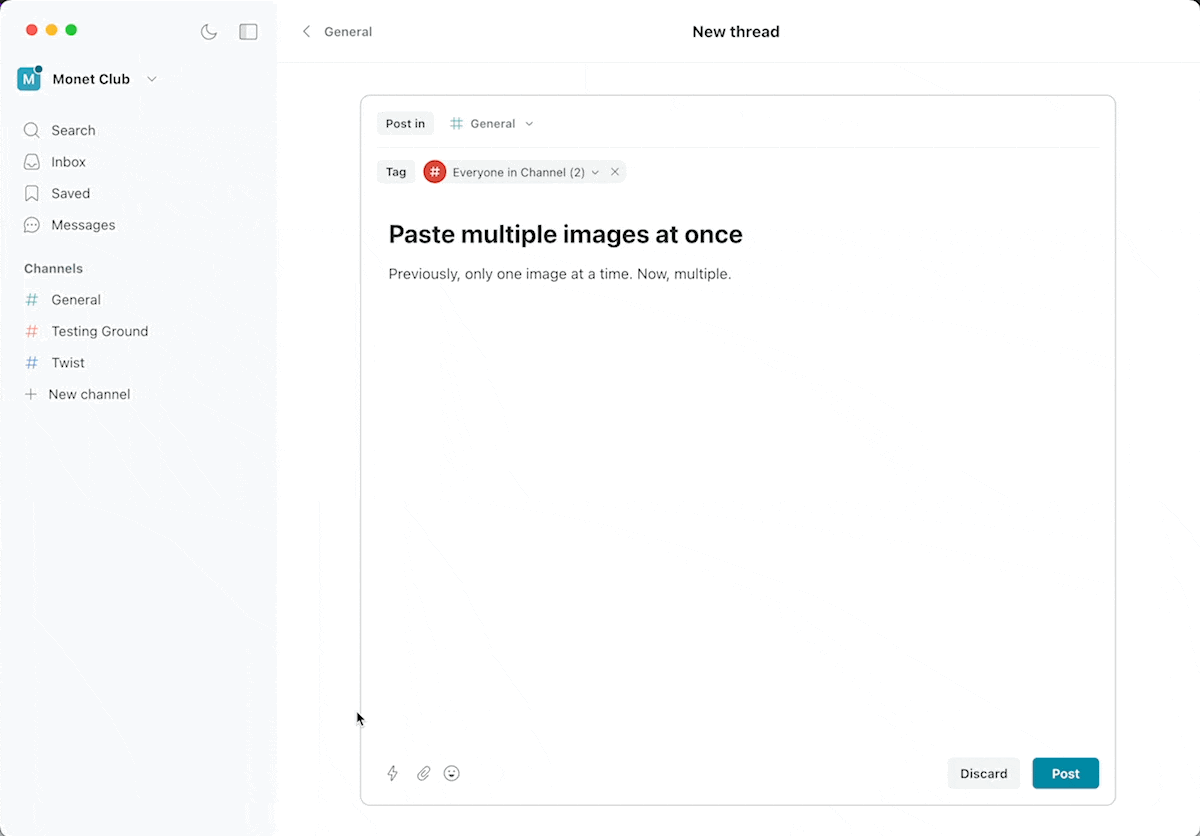 Image sharing upgrades incoming. Before, you could only copy and paste one image at a time in Twist's text editor. Now, you can paste multiple images. Bring on the papa-paparazzi.
Resize the Search Pane 🔎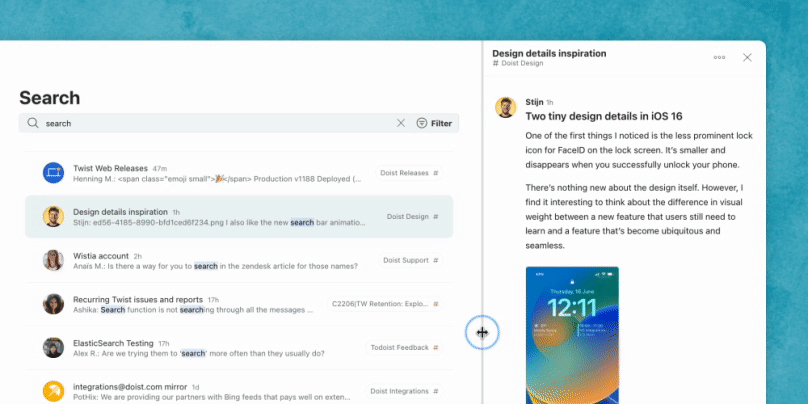 Adjust the search pane width to your liking with just the click of a mouse. Now, reading those search results will be much easier.
Twist Tip 💡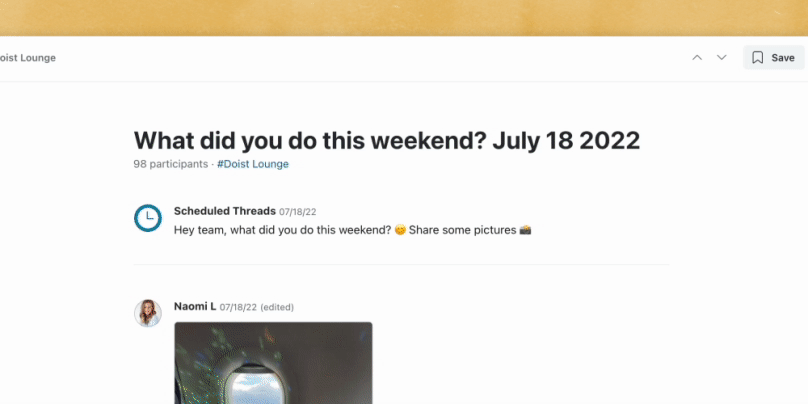 Did you know Twist offers dozens of integrations to make work easier? Whether it's creating recurring threads for async stand-ups or post-weekend check-ins, creating reusable templates for frequently used report-outs, or even adding your favorite gif from GIPHY, Twist can help.
BONUS: Meet Fellow Async Advocates 🤝
Since launching our async community, we've been BLOWN AWAY by the response. Take a look for yourself at some of the 500+ comments from people who are committed to changing the future of work, one canceled meeting and silenced notification at a time.
Collaborate easier than ever: May 19
You've been asking, and we've been listening! This suite of updates makes it easier than ever for you and your team to start that new collab with minimal interruptions. Ahhh, that's more like it.
New rich text editor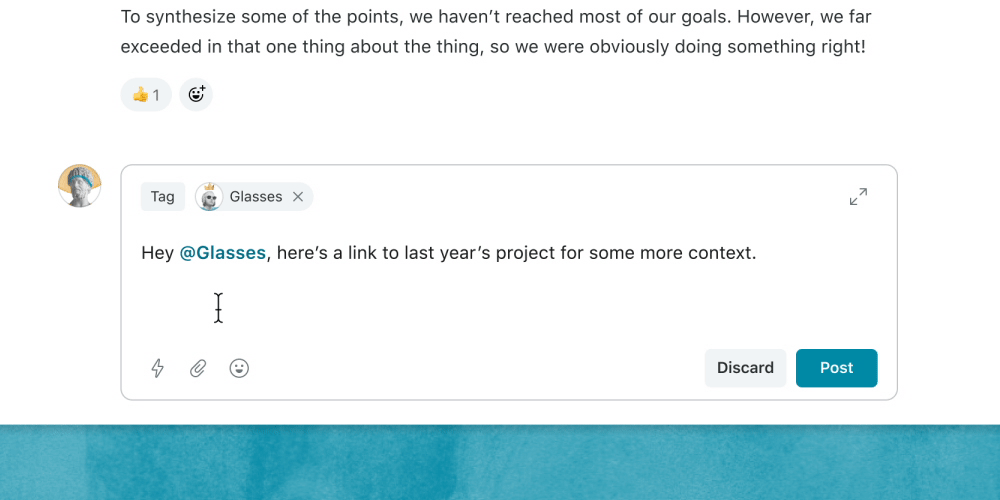 Communicate effortlessly with new rich content editing in Twist. Now, you can improve your team communication with more clarity and more expression — essential for teams working asynchronously.
Actions like formatting text, inserting a link, referencing other threads, and mentioning people just got a whole lot easier.
Collapsible sidebar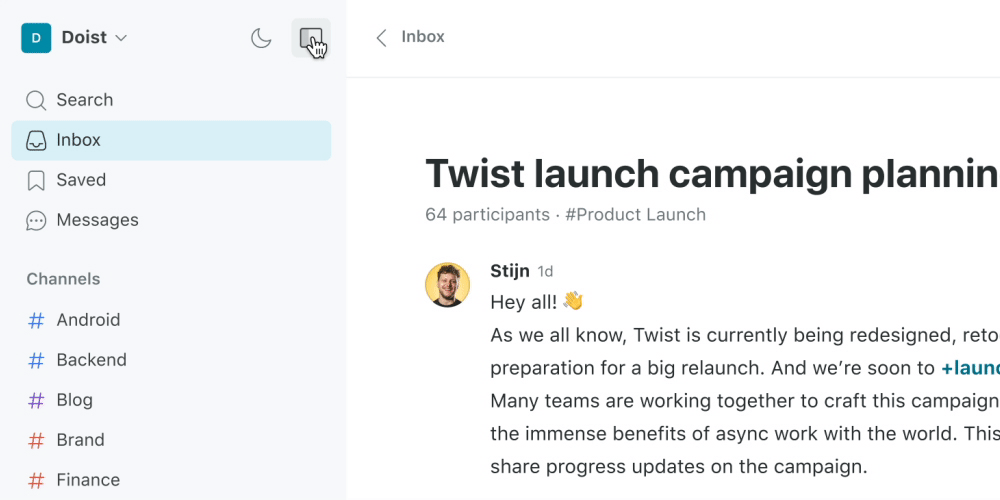 Looking to focus? With a collapsible sidebar on desktop, now you can hide the sidebar entirely to focus even more on the content at hand.
Persistent scroll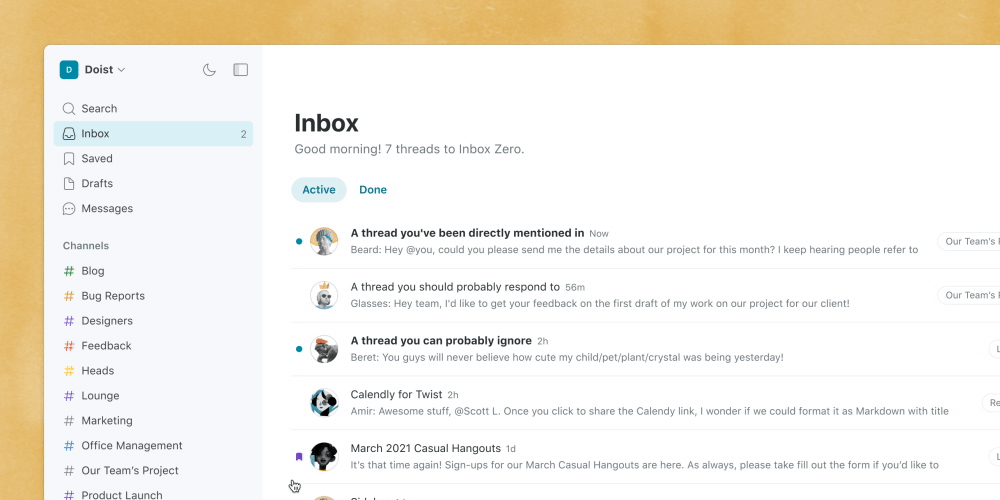 Pick up where you left off with persistent scroll. Now when you scroll through your threads or messages to find something and go back, you'll return to your previous scroll location rather than being automatically pushed to the top of that view.
Automatic dark mode
Working on your iPhone? Now Twist will automatically match the dark mode settings of your phone's system preferences.
Preserved file names when uploading
Stay organized across your devices. Now when you upload files to Twist on your iPhone the original file names will be preserved to maintain consistency.
Plus: Building community
Have you been wishing there was a gathering place for people who believe in the power of async collaboration to make our work and our lives less reactive, more focused, and more joyful?
If you...
Are fed up with always-on work cultures that reward presence over productivity
Crave fewer meetings and interruptions and more time for focus and creativity
Believe everyone should be trusted to work where and when it works best for them
Think that slower communication often leads to better communication
Know that hard work needs to be balanced with rest and disconnection
Then join our async community! We're starting a fortnightly newsletter (English-only to start!) that will challenge us to think about work, collaboration, and productivity in radically new ways. By signing up, you'll get access to exclusive content (and the occasional async swag giveaway 👀) and exchange notes and ideas with like-minded people. Challenging the workplace status quo isn't easy, but it's a helluva lot easier together.
Find what you need: Jan 31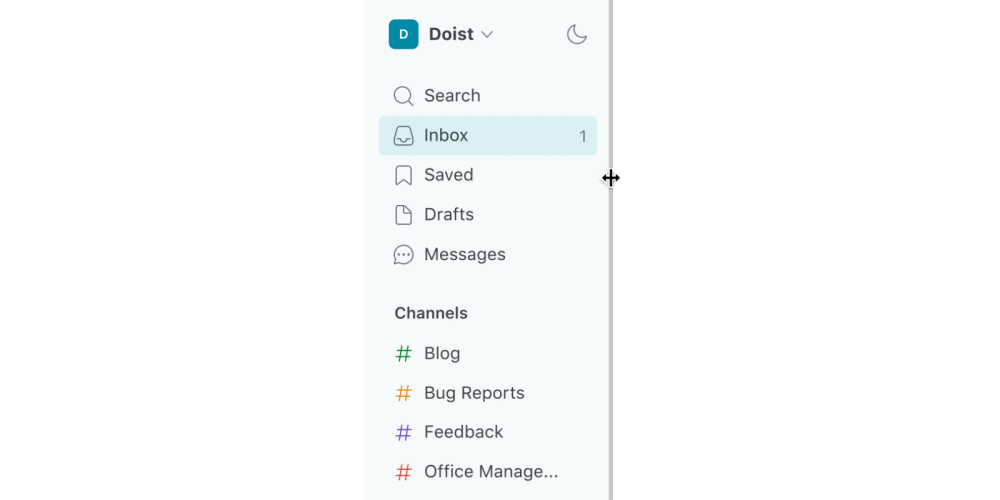 Easily find the channel you need (or open some wider space to write a long thread) with a resizable sidebar on the web and desktop.
⚙️ Plus iOS improvements
Ease your eyes — Twist will now automatically adapt to your Dark Mode system preferences. 🌞🌙
Add images and videos more easily with the updated picker (paste images directly into the text editor, too!).
Important details in Twist are even clearer: File uploads will keep their name (instead of Twist Upload), new icons will indicate private channels, and tapping on a member's avatar will open their profile view.
⚙️ Plus Android improvements
With Android 12, you can now paste images directly into the text editor! You'll also be able to quickly add recent hyperlinks.
🐛 Minus web bugs
Twist on the web will be a bit prettier now. We adjusted the positions of some buttons and menus, fixed some alignment and dark mode issues, improved the preview styling, and updated some lingering shades of blue that are now Twist Teal™️. 💅
Linking directly to a message will now open in the right place in the direct message.
Searching for a specific message will now open in the right place in the search preview.
🐛 Minus iOS bugs
In addition to fixing some sync and typing performance issues, Loom links are now tappable, and previewing a channel or thread should no longer result in a crash. 😅
🐛 Minus Android bugs
Things are working much more smoothly: Reactions now work when you open a thread from a push notification, the file you want to open will now be the correct one, and you'll be able to mark threads as unread from the Thread Options menu.
🔢 Versions
Web 816, iOS 22.1.12, Android 425, macOS 1.0.4, Windows 1.0.3, Linux 1.0.0
Easier reading: Dec 16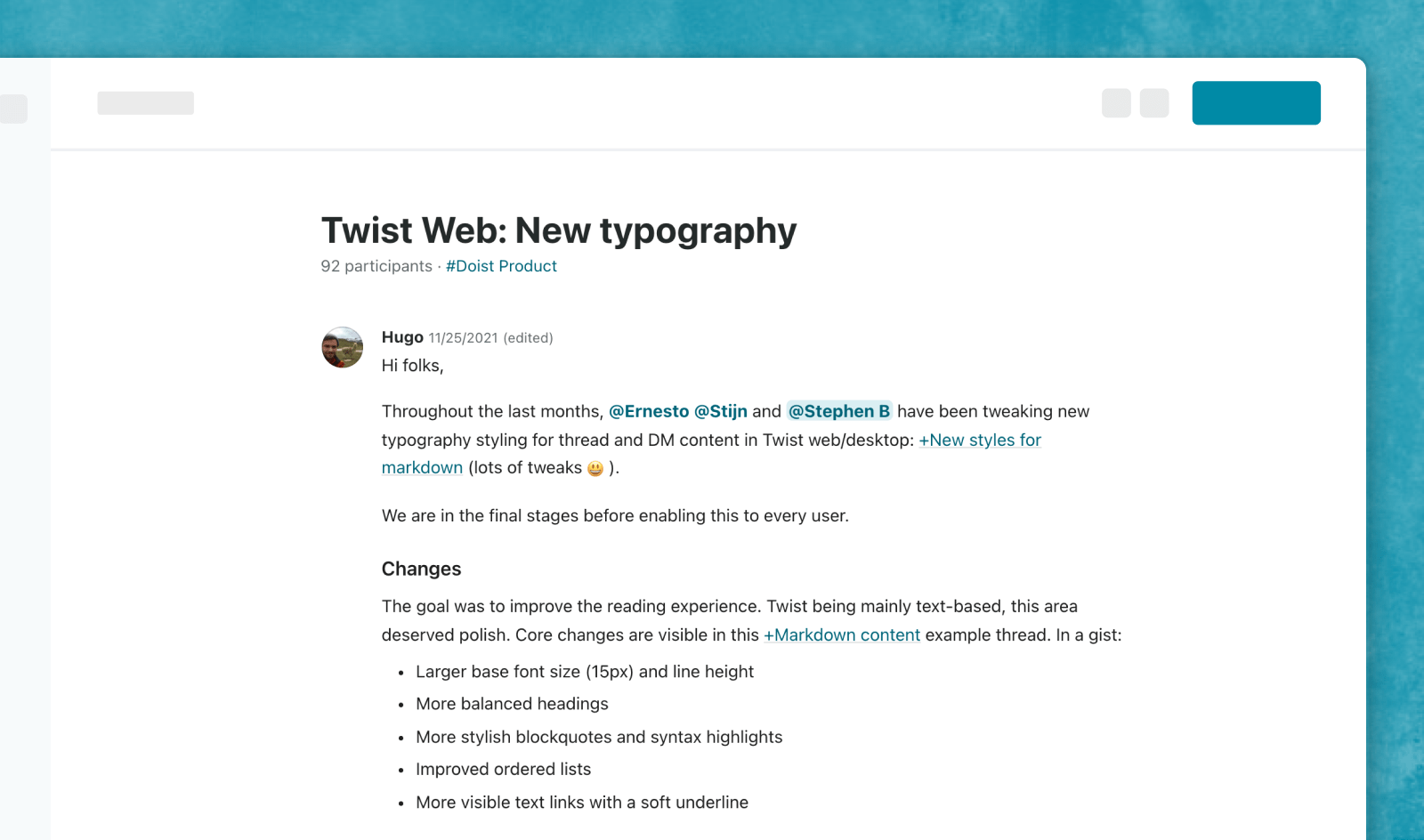 Communicate with ease with improved typography on desktop. Larger font and a little more room between lines make reading a bit easier on the eyes. Scan long threads more easily with updated blockquotes, larger headings, and softly underlined hyperlinks.
Thumbs up for faster reactions
Prefer 🖖 to 👋? Or use 💯 way more than 👍? Now you can choose from your most recent emoji way faster. Long press on any comment or message on iOS or Android to try it out now.
⚙️ Plus web and desktop improvements
Navigate to search with an updated shortcut: `/`! (And thank you for that suggestion!)
Craft a response while viewing the correct comment or message. That's because Twist no longer scrolls all the way down when you open your composer.
⚙️ Plus iOS improvements
Don't think about work when you're out of the (virtual) office. Now Twist won't show any notification badges when you've set time off.
Save, mute, and edit threads more comfortably on mobile with a little visual update to the thread option menu. Curious about the difference? Tap the three dot icon at the top of any thread.
⚙️ Plus Android improvements
Add images to any comment and message by simply pasting or dragging them into your composer!
Save, mute, and edit threads more comfortably on mobile with a little visual update to the thread option menu. Curious about the difference? Tap the three dot icon at the top of any thread.
🐛 Minus web and desktop bugs
Twist and Todoist weren't playing nice! Now you can once again super easily add Twist threads, comments, and messages to Todoist as tasks.
Twist no longer wildly scrolls through your messages as they load. That was a bit disorienting!
Couldn't find your integrations? That bug has been thoroughly squashed.
🐛 Minus Android bugs
Getting to Inbox Zero is far more simple when you can actually mark threads as done from thread options. 😅
🔢 Versions
Web 754; iOS 21.11.17; Android 374; Windows 1.0.1; Linux 1.0.0; macOS 1.0.3
Notification bugs and touch-ups: Nov 11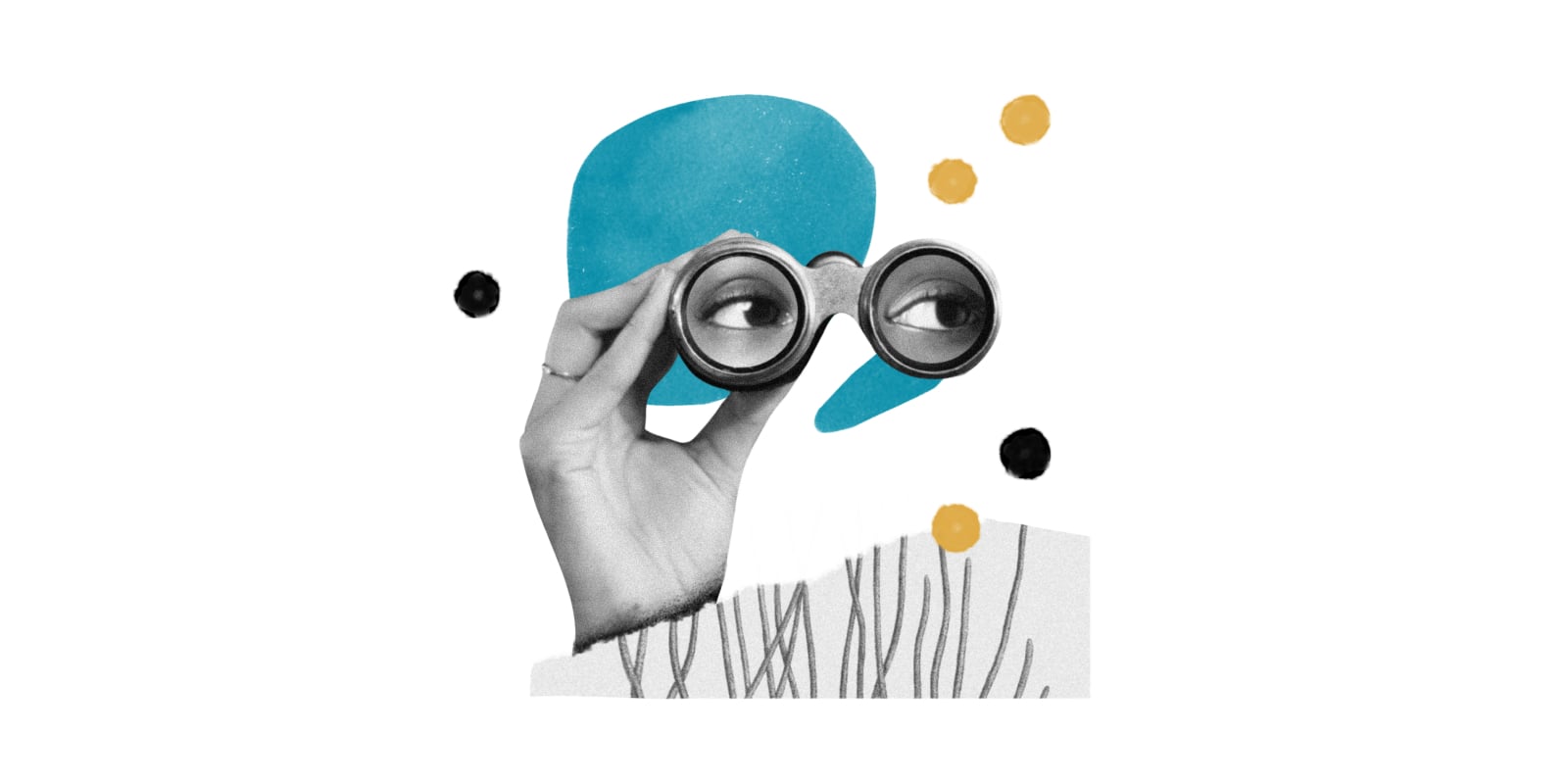 Recent updates have been all about bug squashing and app polishing, so everything should now run a little smoother than before.
🐛 Minus bugs
Notifications were not working flawlessly across platforms. This is now taken care of, and you'll once again receive notifications for all your threads and messages.
🔢 Versions
Web 694; iOS 21.10.27; Android 352; Windows 1.0.0; Linux 1.0.0; macOS 1.0.1
Say hello to the new Twist: Oct 12
A completely reimagined Twist has arrived. This new version offers more space to think, create, and disconnect — all while still keeping you connected with your team. That's the magic of an app built specifically for asynchronous communication!
So what is new in the rebuilt Twist?
Threads move front and center
The expansive new thread view lets you see more of your conversations at a glance. It also means you won't find yourself wandering through other threads instead of handling the topic at hand.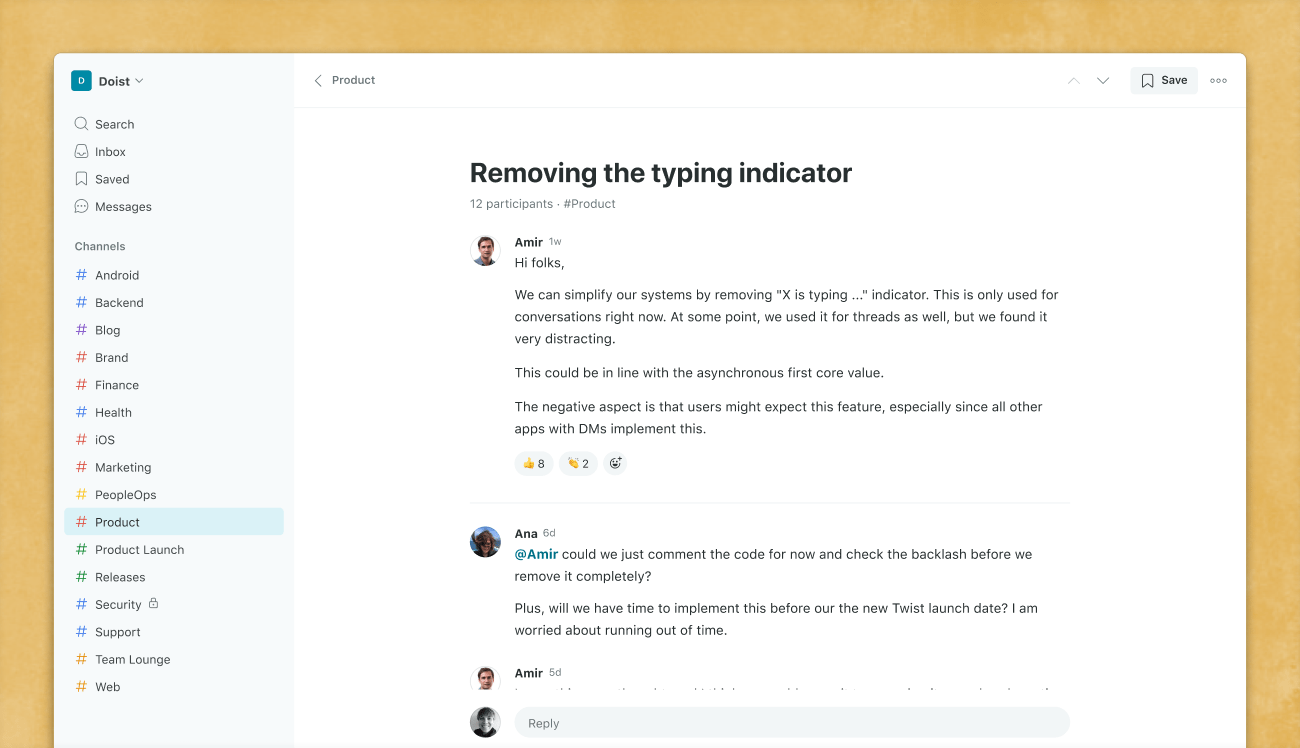 Finally, you can achieve Inbox Zero!
Your inbox now gathers all the threads you're part of in one place, to reply (and mark done) as you go. If you miss the never-ending list of read threads, it still exists in your Done tab.
Get where you're going (faster)
The central sidebar navigation (bottom bar on mobile) lets you move from search to settings and inbox to members faster than ever before.
Total keyboard support
We didn't stop at the navigation bar. You can zip around without ever taking your fingers off the keyboard. Head to Twist and hit ? to discover them all.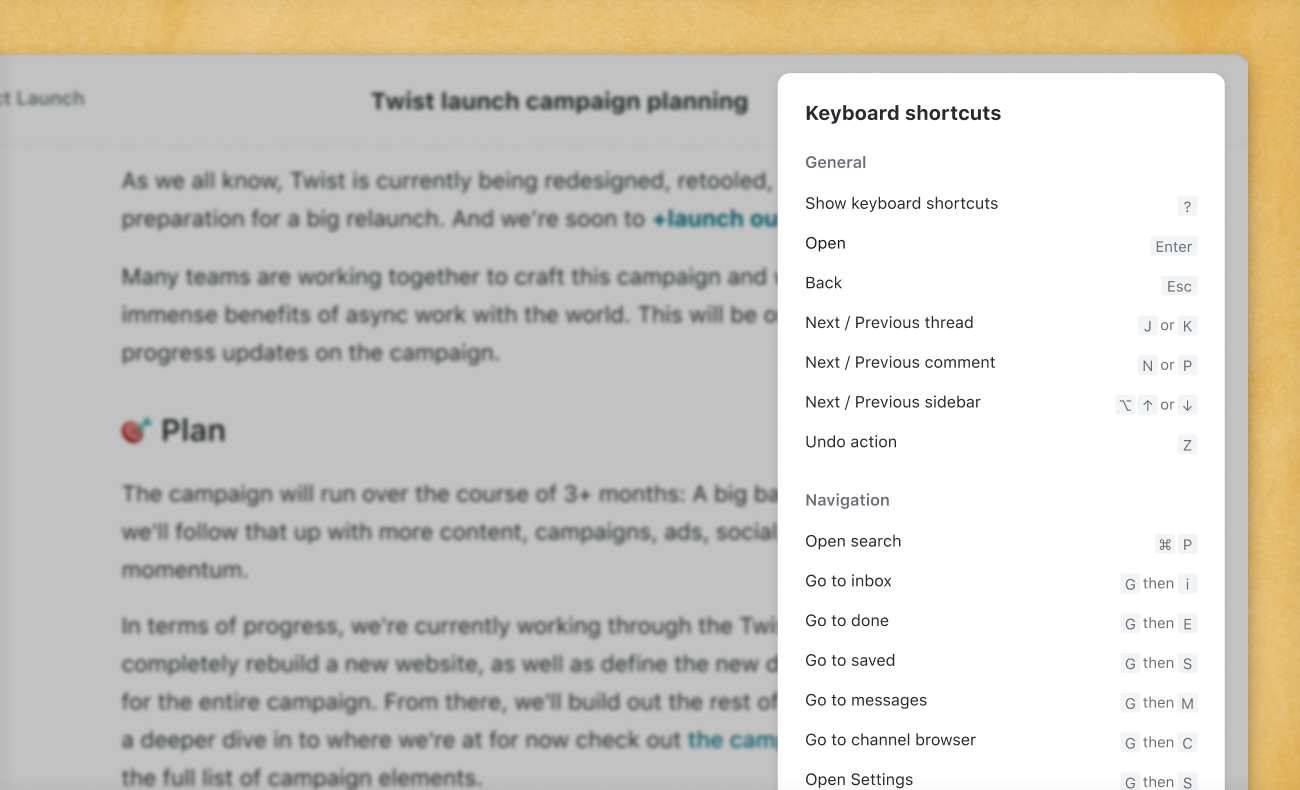 Plus smarter options
Keep up that speed with way more options available when you select the three dots icon for threads, comments, messages, and channels. In fact, head to Settings & members > Integrations to add your tools to the list.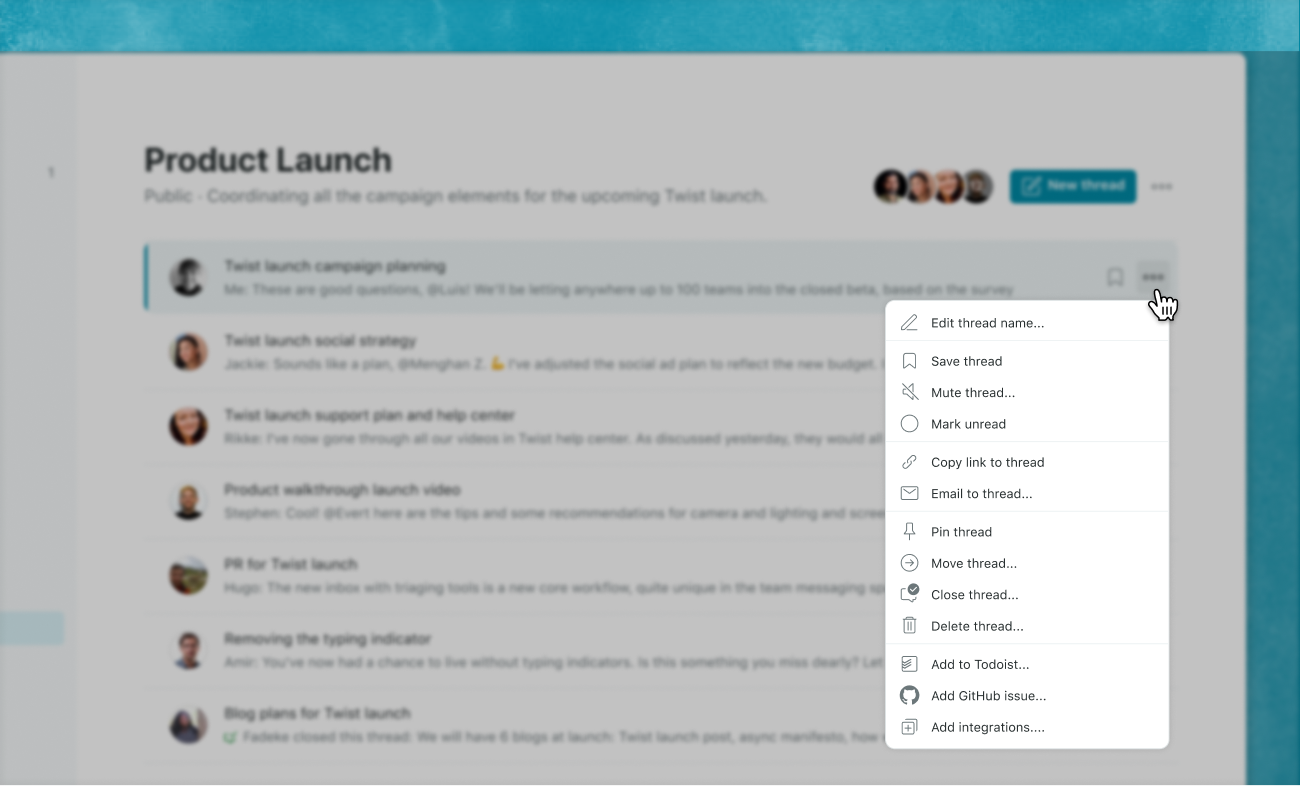 🔢 Versions
Web 636; iOS 21.10.10; Android 322; Android Wear 322; Windows 1.0.0; Linux 1.0.0; macOS 0.4.0
Preview the all-new Twist: Sept 15
We've rethought Twist from the ground up over the last months. This new version is launching soon to everyone — but the Twist Preview is coming to a few selected teams today!
From reading threads with a focused view to marking threads done in the new inbox, the upgraded Twist is designed for powerful workflows to get the benefits of working asynchronously.
That means freedom to collaborate and focus, on your time.
If you're a member of one of the selected teams, you'll automatically be given access to the Twist Preview. If you're not seeing the new layout, please follow the steps below:
On mobile: First of all, make sure to update all your apps to the last versions! It'll get you the latest features and fixes. The Twist Preview is available from v21.9.2 on iOS and v247 on Android. Then please force-close and re-open your Twist app.
On desktop: You may need to refresh the app. You can do this by using the keyboard shortcut ⌘R (macOS) or F5 (Windows).
Thanks for embarking on this new chapter with us! If you have more questions, find more details in this help article.
Who's typing?
You might have noticed that we've removed the typing indicator.
Here at Twist, we optimize for asynchronous communication, always. We found that watching dots appear in real time induced stress and anxiety. Your communication app should not make you sweat — so they're gone.
🐛 Minus bugs
When you receive a new message, your page now scrolls down as expected.
🔢 Versions
Web 1.17.290; iOS 21.9.2; Android 247; Windows 0.4.1; Linux 0.4.0; macOS 0.4.0
Shortcuts and bug squishes: Sept 2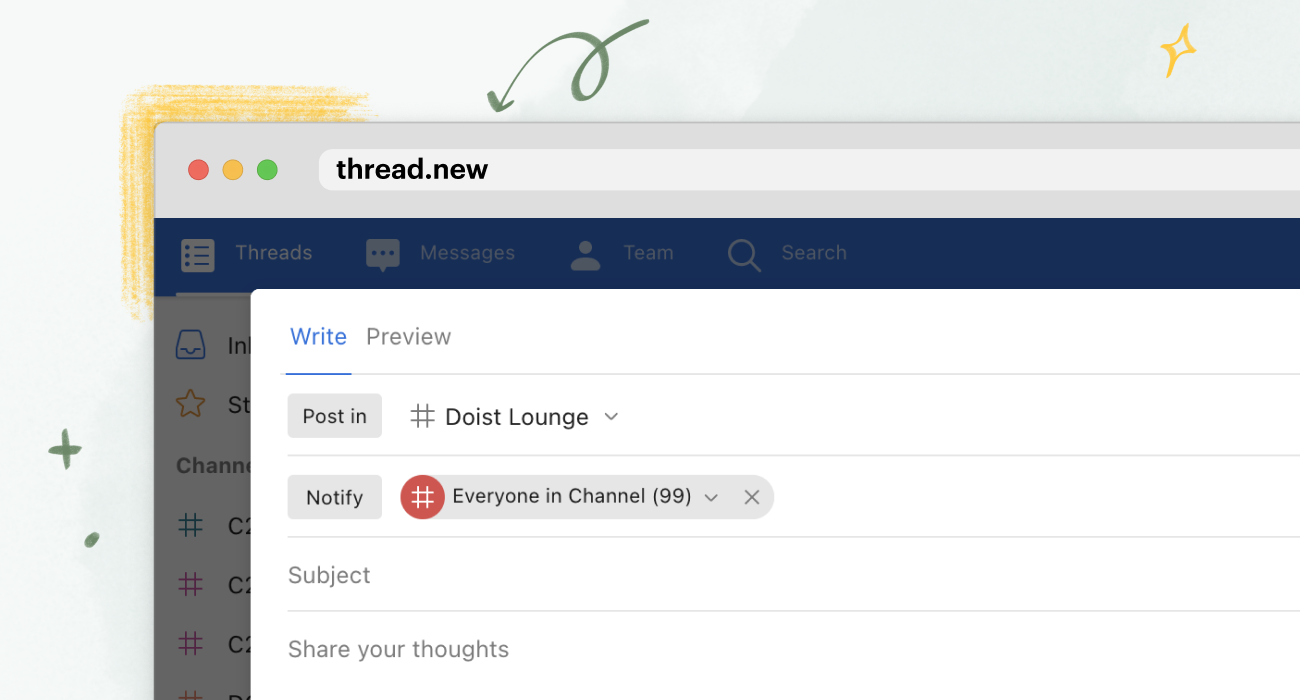 New shortcut alert: You can compose a thread directly from https://thread.new. Type thread.new in your browser et voilà, there's a new empty composer for you to start writing your Twist thread!
🐛 Minus bugs
We've made things a bit better around here. Just for you. (Well, you and a whole lot of other users ...)
🔢 Versions
Web 1.17.270; iOS 21.8.6; Android 228; Windows 0.4.0; Linux 0.4.0; macOS 0.4.0
Bug extermination: Aug 4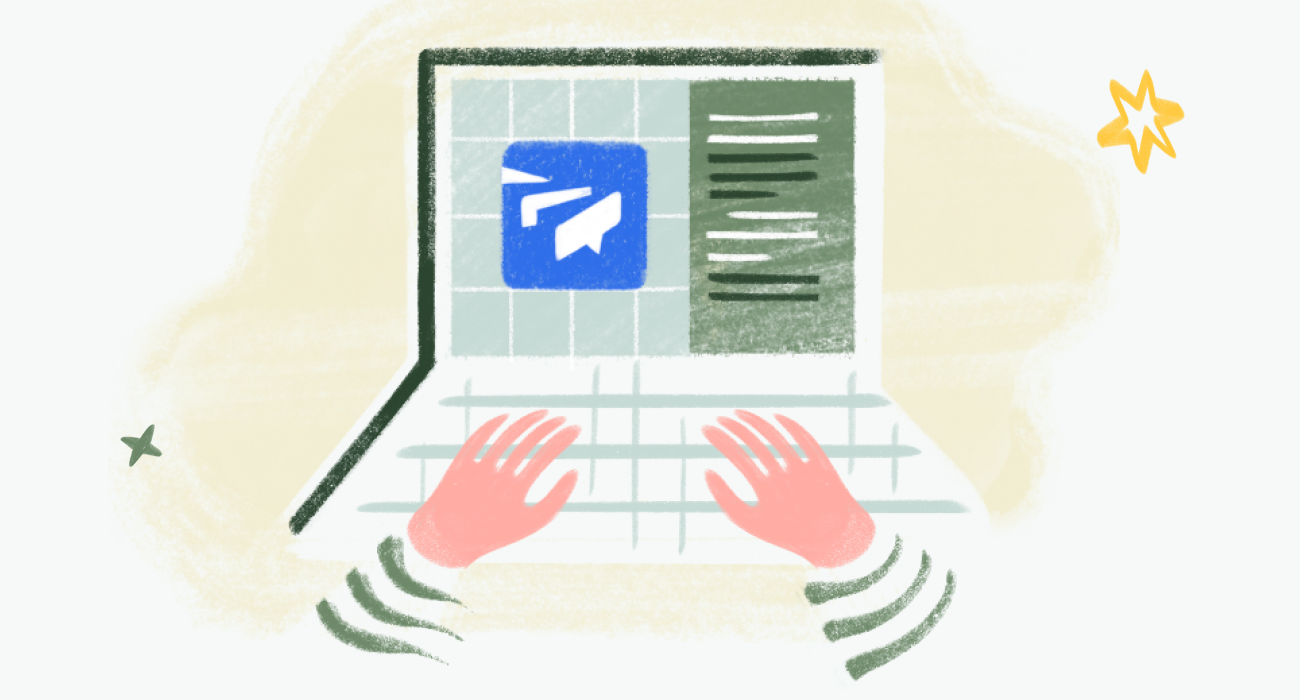 There's something very satisfying about fighting back when bugs attack. This update is all about those pests and their untimely demise, thanks to yours truly.
🐛 Minus web and desktop bugs
Get a notification, select that notification, and then see the right comment or message in Twist. Every part of this very simple process now works — thanks to a little behind-the-scenes debugging.
Delete threads when you need to — because not everything needs to be saved for posterity, despite what this bug thought.
🐛 Minus iOS bugs
View your pinned threads at the top of a channel right after you pin them there!
🐛 Minus Android bugs
Your pinned threads will no longer be accidentally deleted. 😅
🔢 Versions
Web 1.17.253; iOS 21.7.1; Android 201; Windows 0.2.6; Linux 0.2.6; macOS 0.3.1.
Quick actions: Jul 13
Agendaless standups, brainstorming sessions gone long, and planning reviews that don't result in any plans — we all know how bad it can go when real-time, face-to-face meetings are the only option to collaborate.
Cut through the chaos of synchronous meeting culture with the async-empowering features of Twist's latest update. This update features new workflows that make collaboration possible while still preserving time for focused work. Who said you can't have the best of both worlds?
Compose conversations at turbo speeds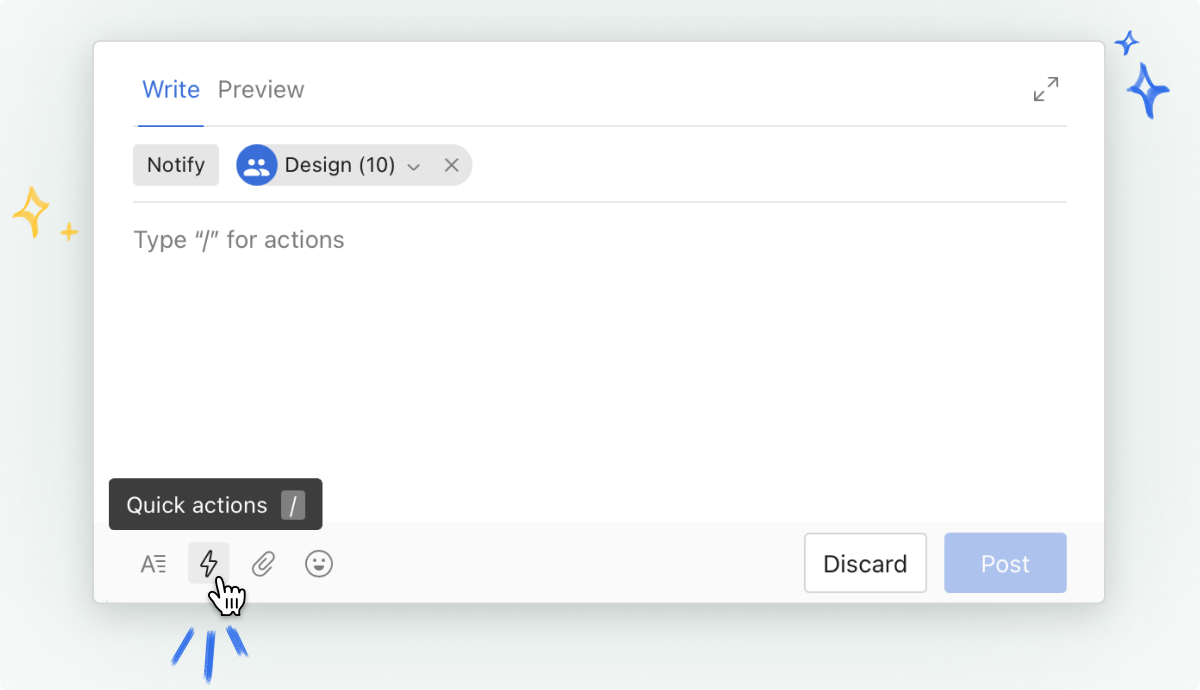 Faster communication and calmer collaboration equals more time for deep, meaningful work. All-new quick actions help you speed up message creation so you have more uninterrupted time to focus.
To do more, faster, try the quick action options by typing / in the composer. You'll be able to reference threads, add integrations, or insert a GIF.
Streamline meeting workflows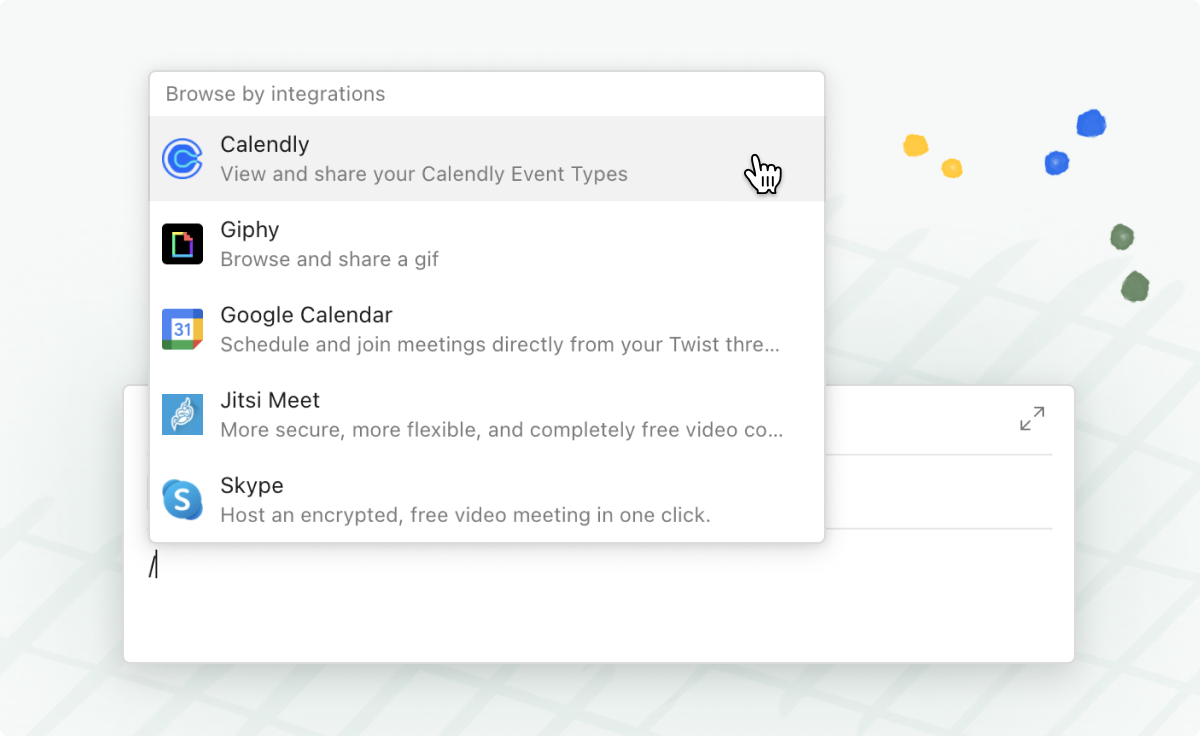 While Twist is designed for async communication, every now and then a sync meeting is necessary to build bonds or make time-sensitive decisions.
Now it's far easier to schedule and join meetings with the all-new quick actions plus all-new integrations!
Psst. Now you have the option to install integrations just for yourself or for your entire team (if you are an admin)!
Get every reference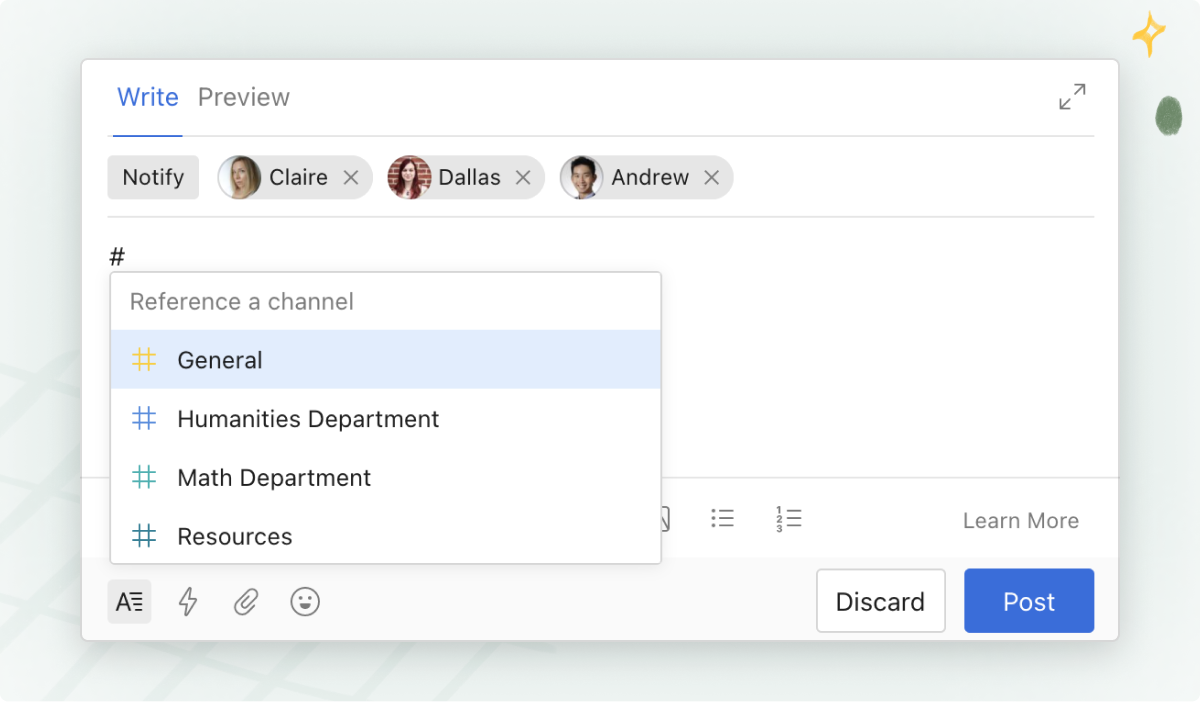 You are already automatically creating a browsable, searchable superbank of team knowledge with threads. Now, it's even faster to connect the dots.
Quick actions help point your colleagues to prior discussions, redirect conversations, or even provide inspiration! Simply select the lightning bolt icon or type / in your composer and search for the relevant channel or thread.
Quick link to any conversation
Promote flatter organization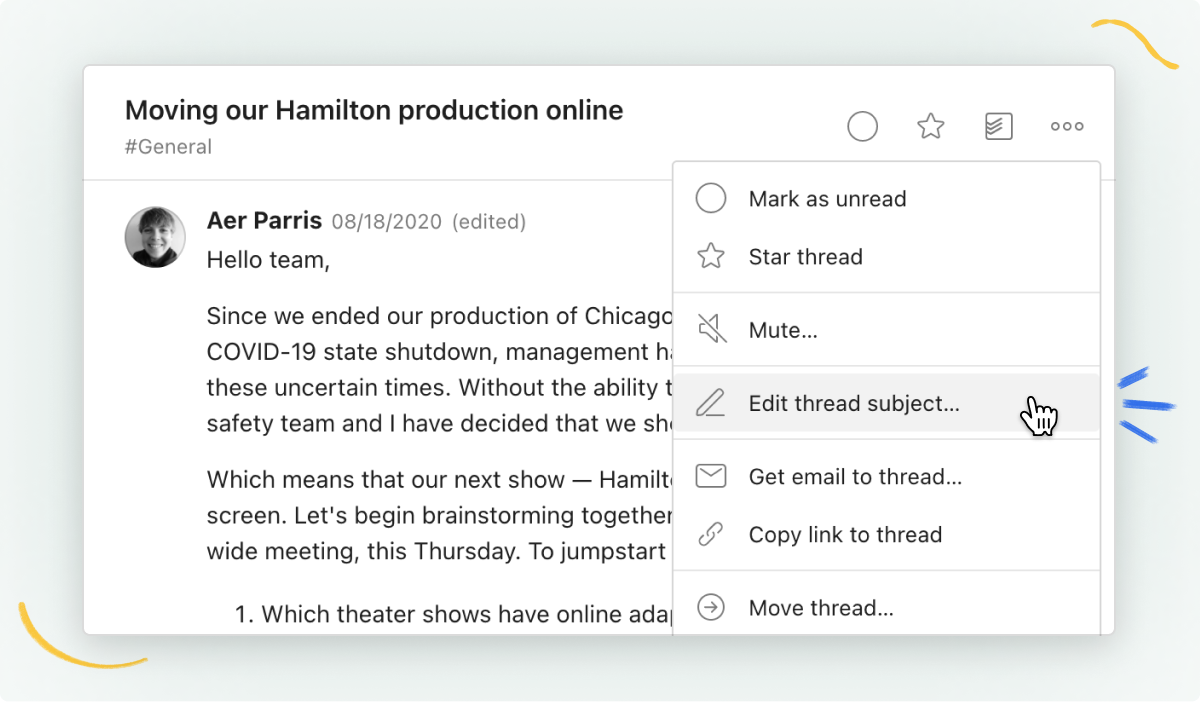 Open, transparent communication is another founding tenet of Twist. Giving everyone the power to make big changes to channels democratizes the app even further.
Edit the title of any thread — whether you created it or not. Fixing typos and making threads more searchable is a whole lot easier!
Change important parts of any channel, too. Update the name, color, icon, description, and default groups and participants even if you're not the channel creator.
Plus, move threads from channel to channel as you like. You'll no longer have to be an admin to tidy up your workspace.
P.S. You'll have to be a team member (and not a guest) in order to edit thread titles and channel information or move threads around at will. Plus, you'll be able to see which team members make edits and changes — to keep everything out in the open.
Get ready for something big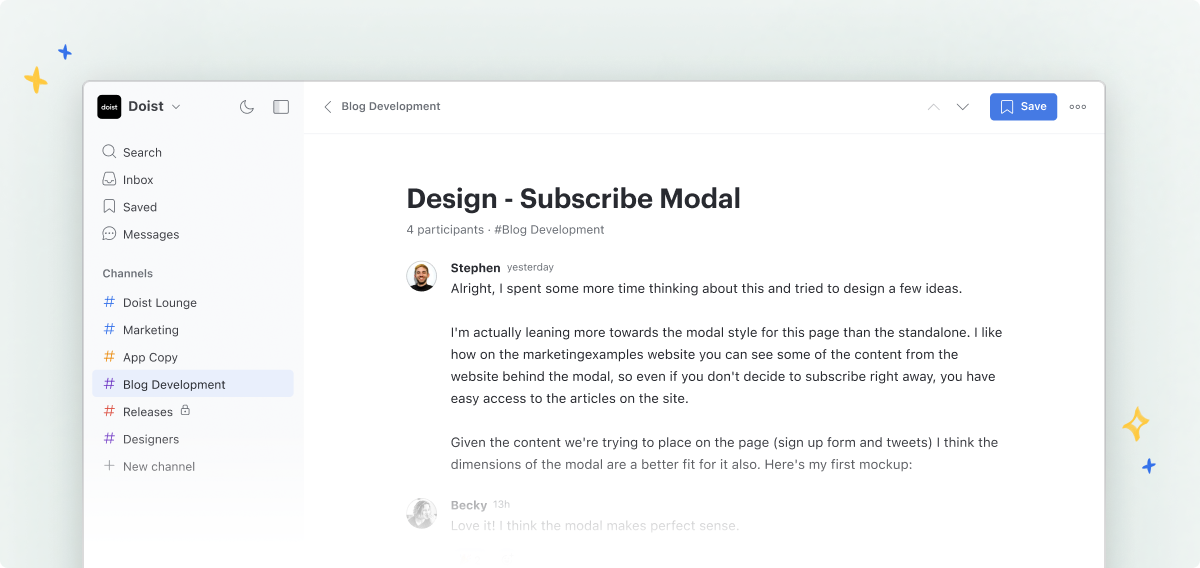 Are you ready for completely reimagined messaging for work? Twist is being rebuilt with new features and a feel that makes async work the default, so you have more time to focus, create, and then disconnect.
It's messaging optimized for the creator's schedule, not the manager's. It's communication that makes working from a distance easy, whether it's a choice or a necessity. It's a tool for people who crave focus and flexibility. And it's coming soon.
Plus:
Find curated advice and tips from We Are Async, the Doist-built community for people who are proud advocates of asynchronous communication and all of its positive benefits.
"Sorry, I'm too busy for anything important right now." Check out our latest comic: The Mere Urgency Effect.
Manage your Twist collaboration with these 14 must-read tips.
🐛 Minus web and desktop bugs
Find yourself right where you left off now that Twist scrolls you all the way down to the bottom of your conversation in messages.
Quickly add to-dos to Todoist right from Twist — now without funky formatting in your new Todoist task.
Keep all relevant information in one place by once again forwarding emails to a thread. That's thanks to this bug squash.
Twist's digital chiropractor has realigned pop-ups, buttons, and more.
🐛 Minus iOS bugs
Close or reopen a thread to view a delightful new icon. 🤩
Plus a little bit of reorganization to tidy up your settings.
🐛 Minus Android bugs
Close or reopen a thread to view a delightful new icon. 🤩
Stop snoozing or end your time off and Twist won't crash — so you can get back to work without missing a beat.
🔢 Versions
Web 1.17.242; iOS 21.7.0; Android 196; Windows 0.2.6; Linux 0.2.6; macOS 0.3.1.
Pin, mute, and link: Feb 23
In a year that's bound to be busy, make sure you're spending your time on the discussions that matter most with a handful of new features in Twist:
Put a pin in it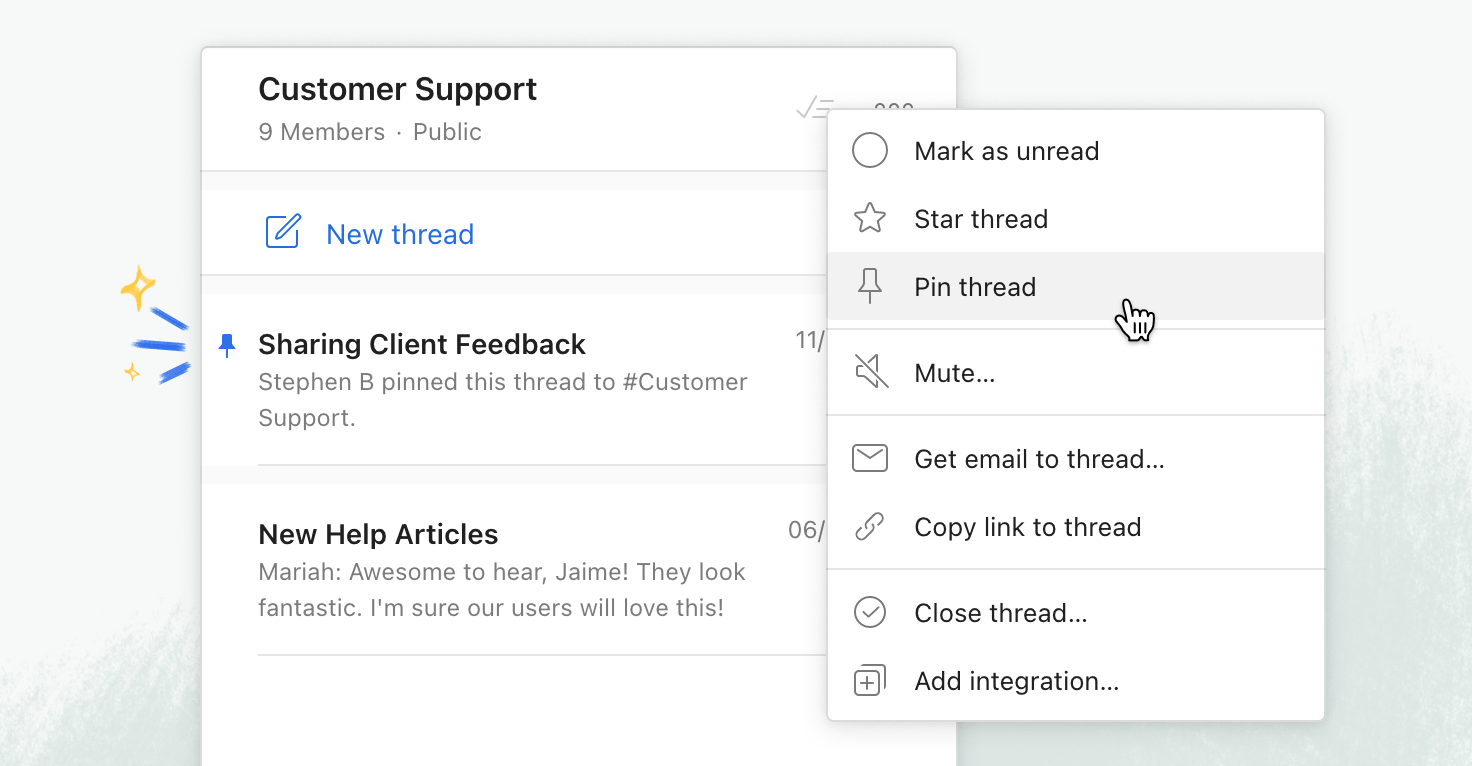 Some conversations are more important than others, so make sure your team doesn't lose track by pinning threads to the top of a channel. Simply open a thread, press the three dots icon at the top of a thread, and choose Pin thread.
No missing links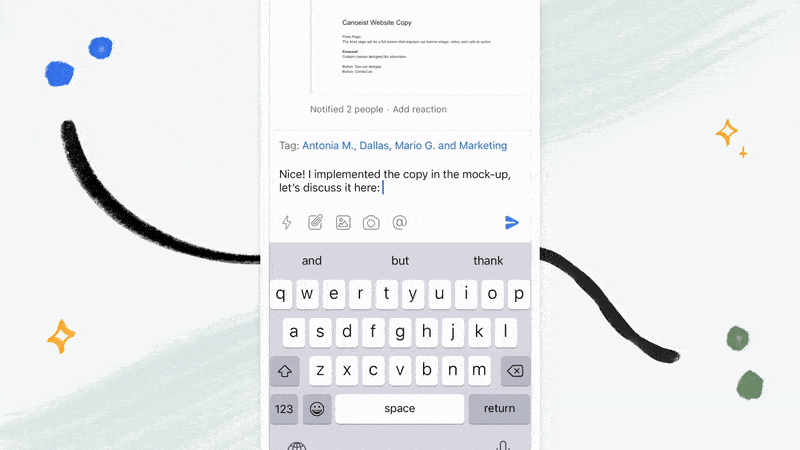 To make it easier to reference all the great ideas across your Twist workspace, you can now link to any thread or channel in seconds. Whenever you're writing a post, simply type / and choose the thread or channel you want to link to. (Or press the lightning bolt in your composer.)
The sound of silence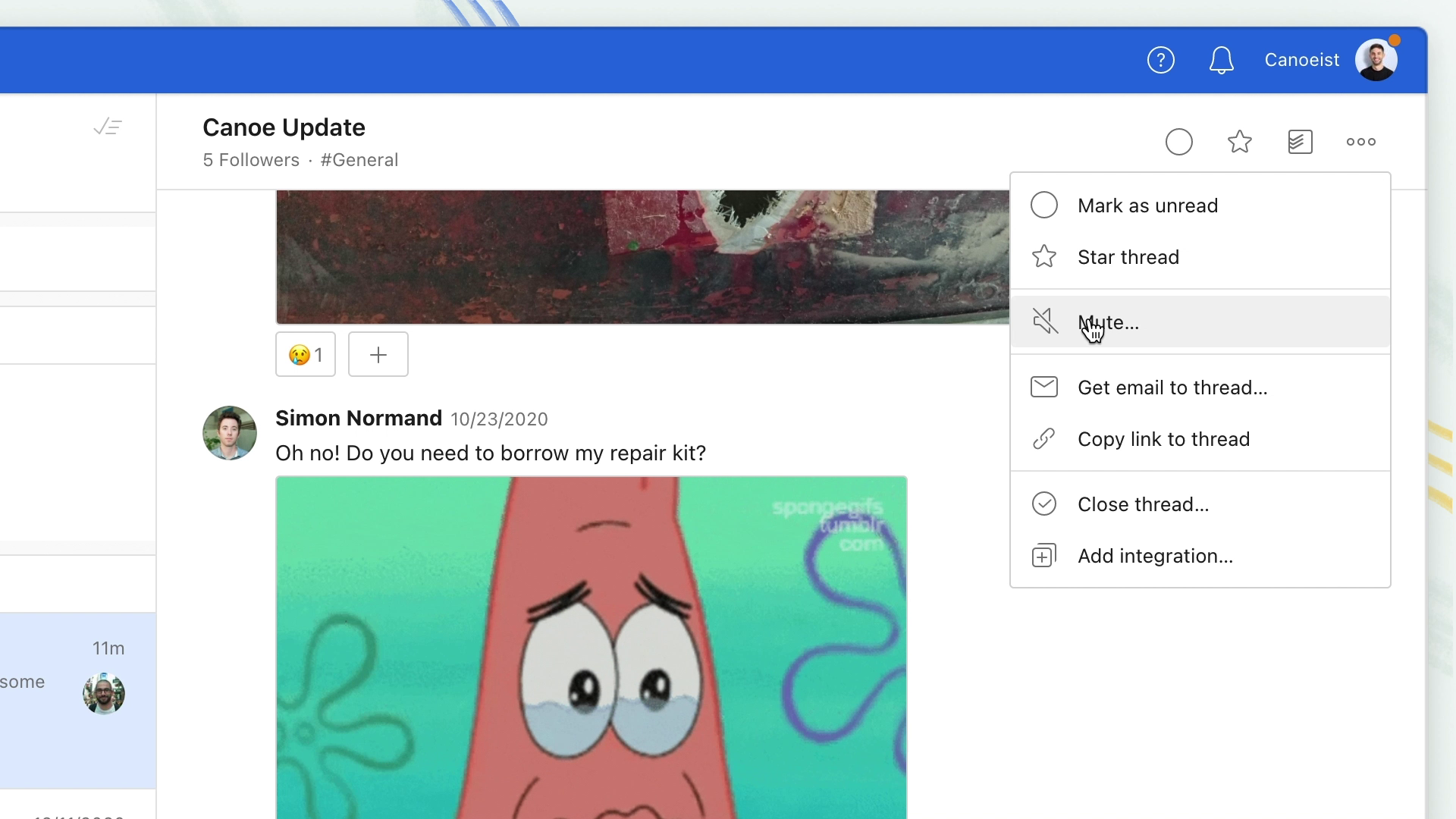 Focus is a rare commodity these days. To keep your Inbox (and mind) clear of distracting conversations, you now have the power to mute a thread. Simply open a thread and use the three dots icon and select Mute to turn off all notifications and Inbox unreads for the thread.
No more random reply-alls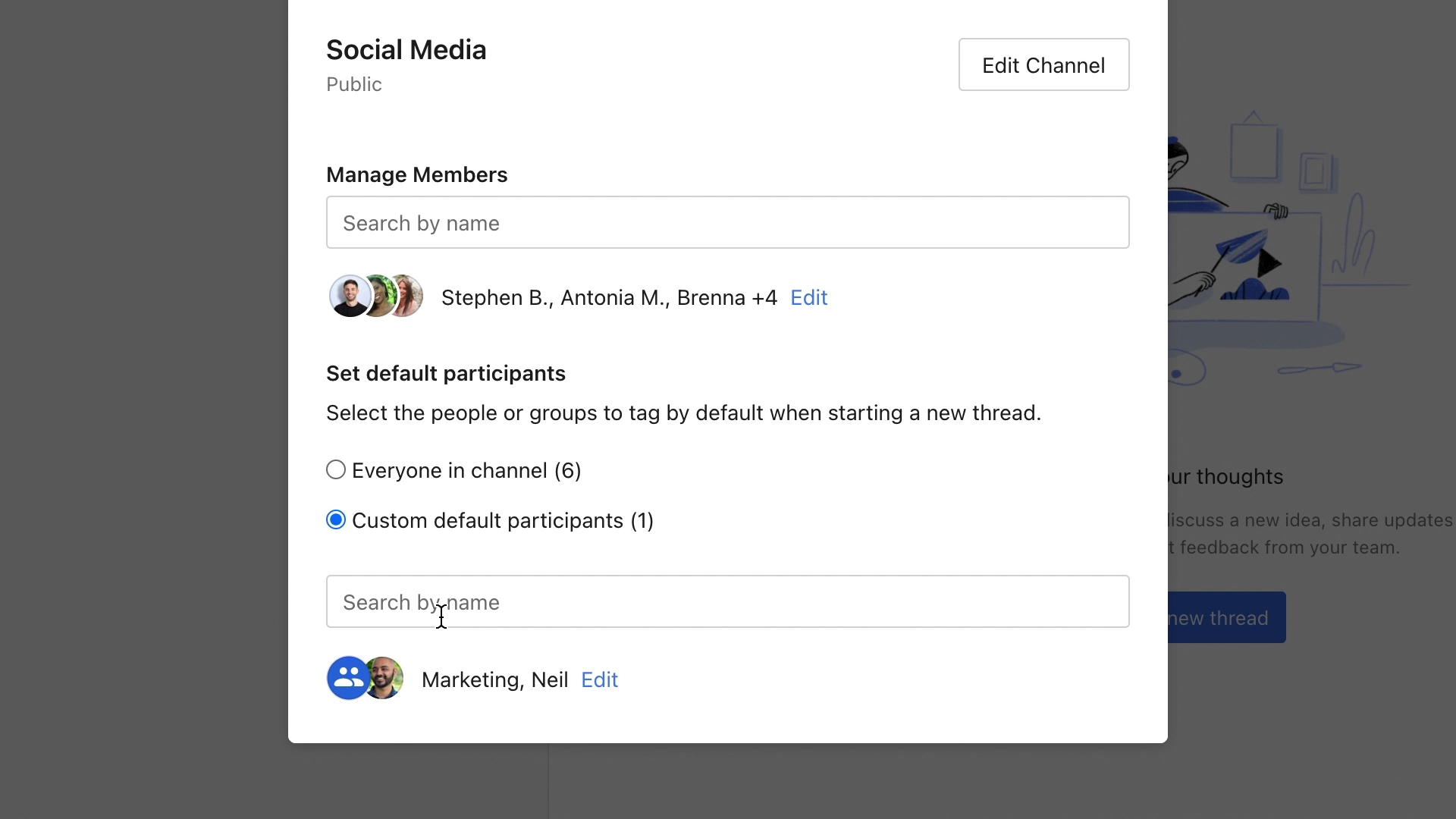 When someone joins a channel, they don't always know who should be included in the conversation. That's why channel creators can now select who will be tagged by default on every new thread. Simply head to the channel options (press the three dots icon on web and Android or tap the channel name on iOS) and then select your default participants.
Emotion, in motion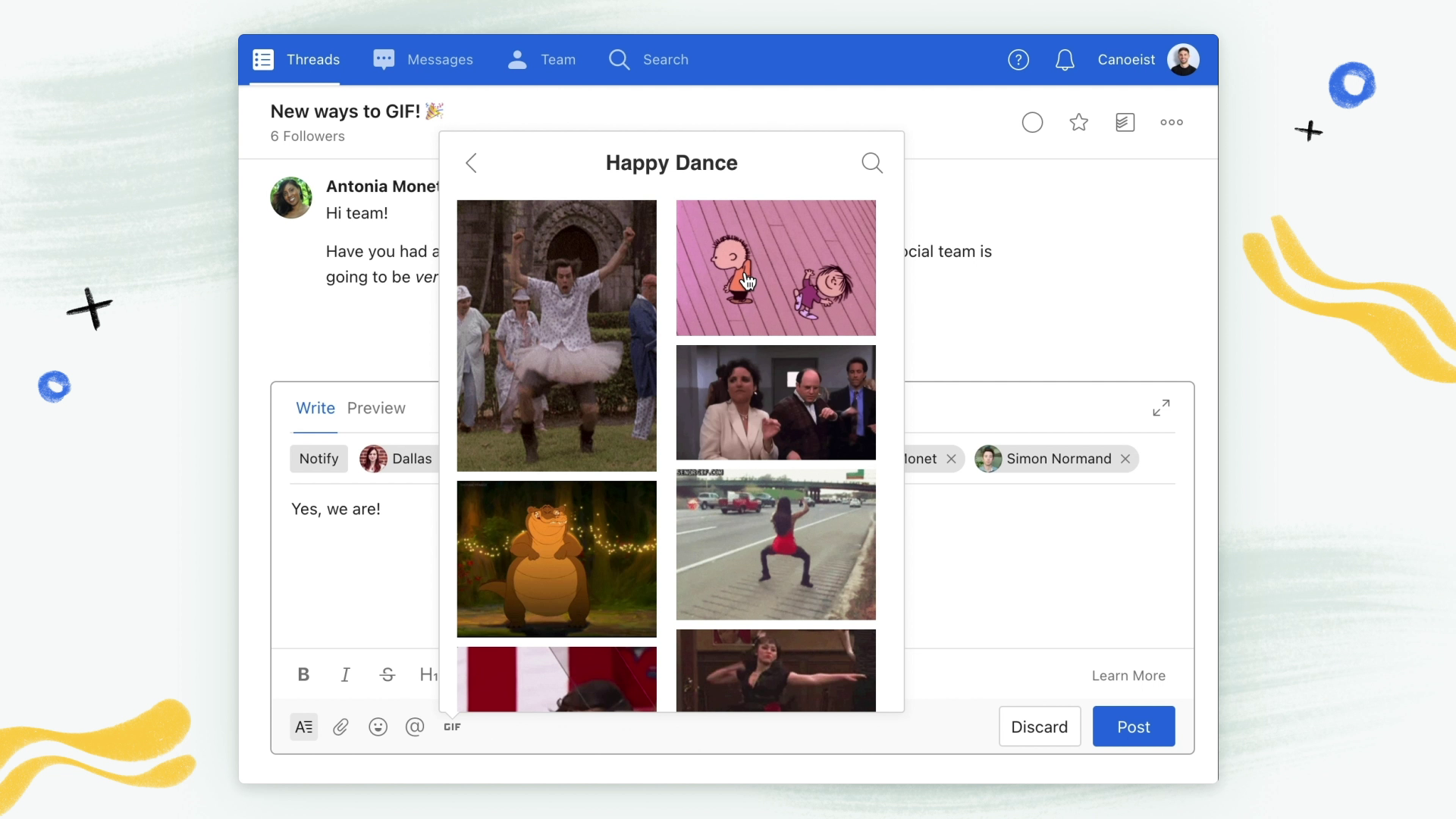 What better way to lighten someone's day by sending a GIF? It's now easier than ever: Just press the GIF button at the bottom of the composer. You'll be able to search Giphy's extensive list of animated magic and send it right in Twist.
In other news...
Upgraded composer: Sep 2020
Plus images where you want them, all new emoji reactions, and more!
One of the biggest advantages of Twist is writing compelling, thoughtful posts to your team (instead of rushed, line-at-a-time chats). Thanks to a handful of new updates to your composer and reactions, you'll now be able to express yourself more clearly than ever. 🤝
Get the complete picture before you hit Post on the web
Gone are the days of posting to a thread, then scrambling to edit it because it didn't look quite right. You can now craft, edit, and preview your posts in a much more detailed way thanks to Twist's new, fully redesigned web composer.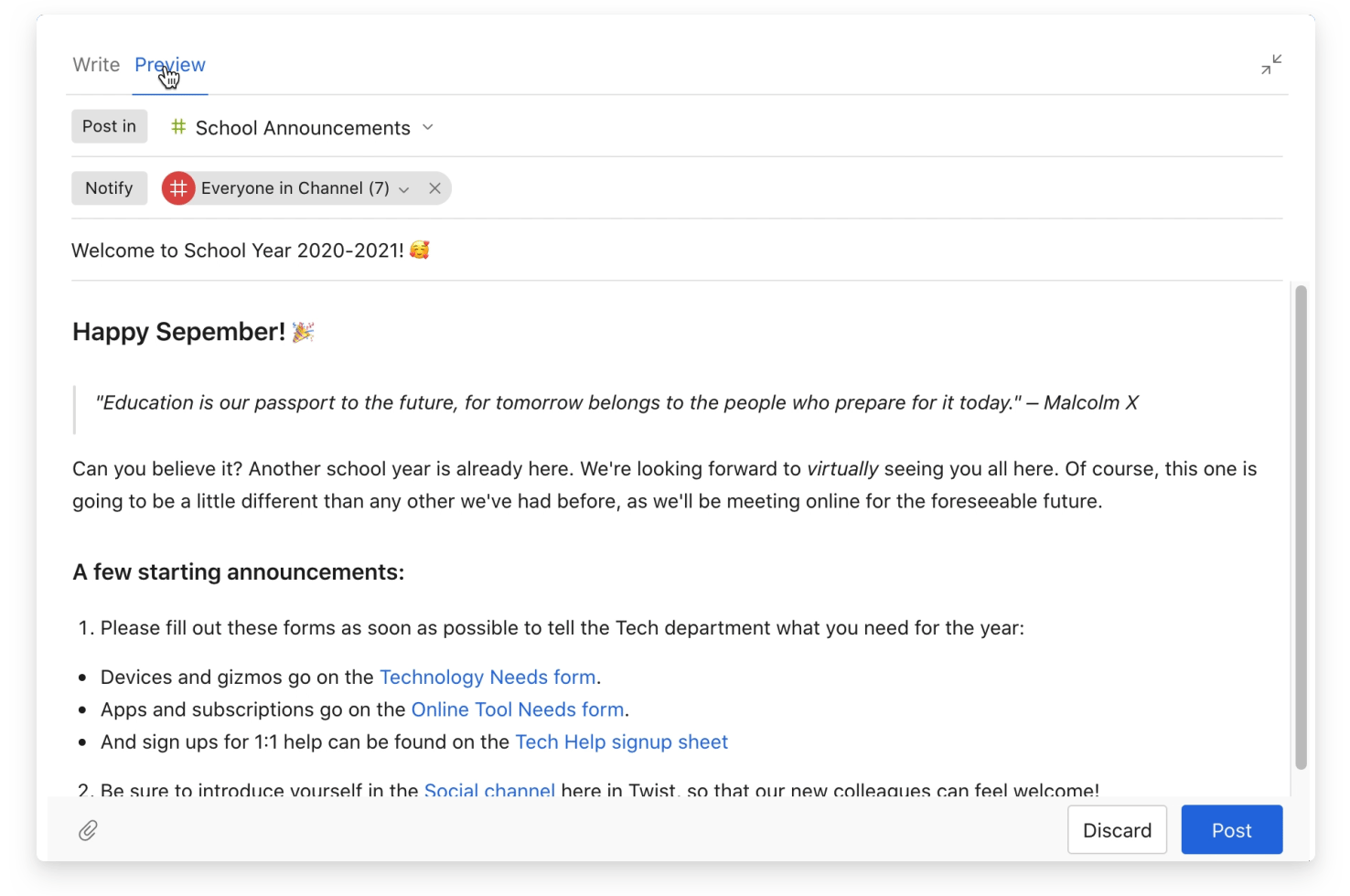 Include images right where you want them
You can now add useful graphs, screenshots of error messages, or photos of vacation escapades right in the middle of a post with new inline images on the web. Simply click the image icon from the new web composer's text formatting options and choose your file. Done.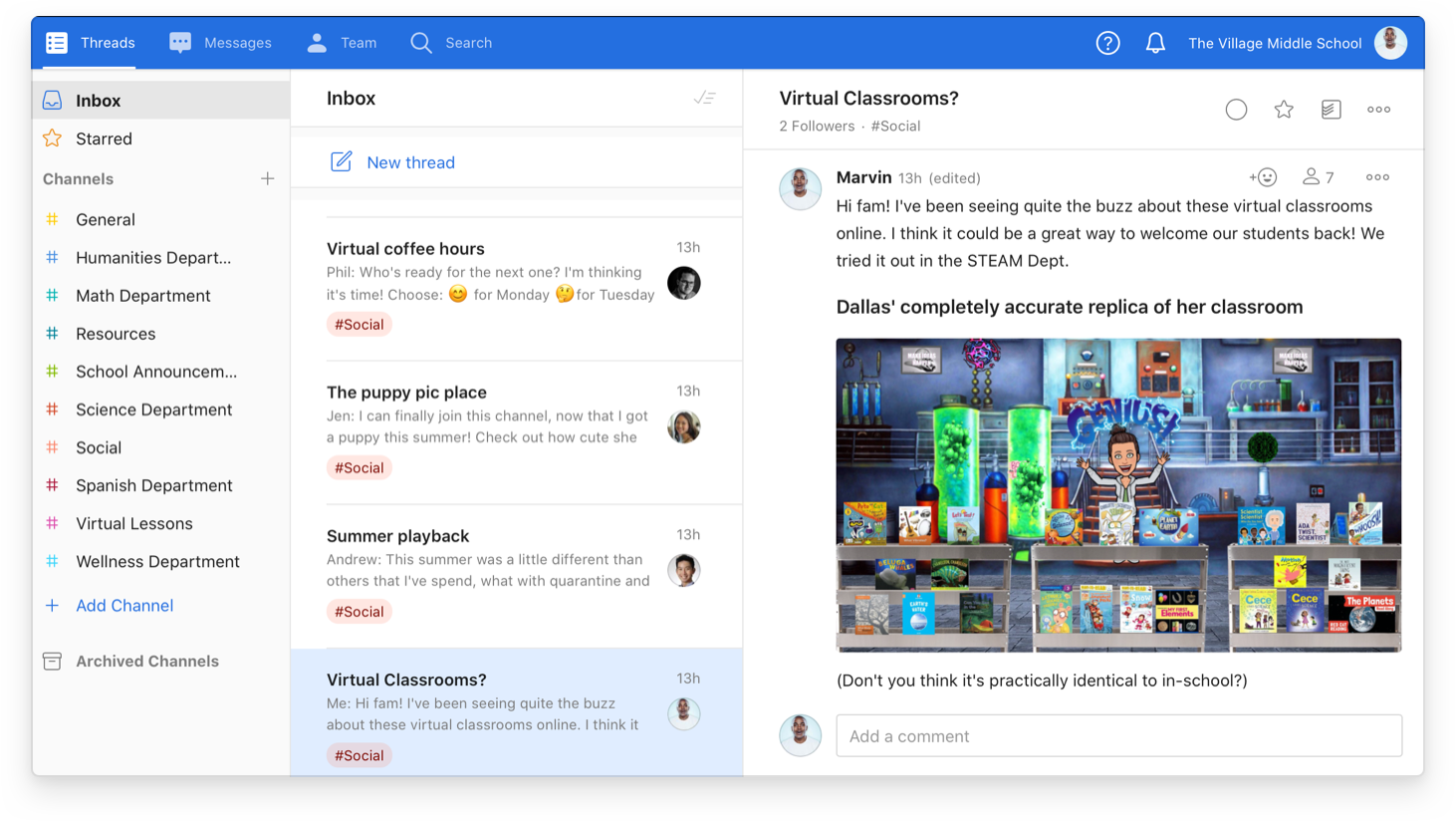 Use reactions to their fullest, funniest potential
Do you ever wish you could react to a spot-on idea with 🎯? How about 🛶 when asked for team retreat suggestions (for a non-socially-distant future)? Respond to your teammates' superbly formatted messages by adding way more reactions — you can now use literally every emoji in the book. 📚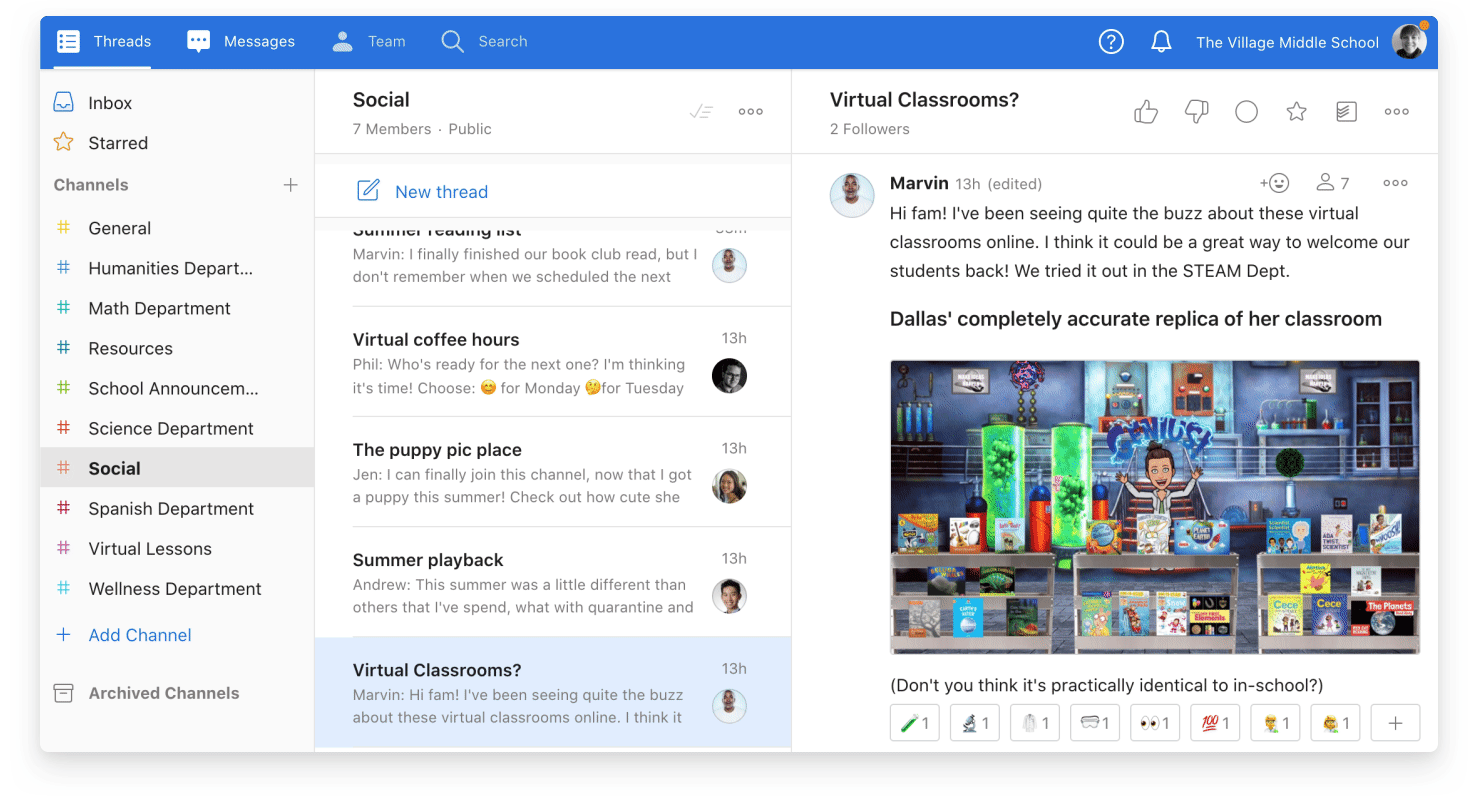 Edit more easily with new context menus for iOS
Speed up your on-the-go workflows with the new long-touch menu. On iOS and iPadOS 13+ simply touch and hold for a new menu which lets you mark messages as read (or unread), turn threads into Todoist tasks, get the link to any channel, and so much more.
Using your iPad with a mouse or trackpad? Right-click does the same.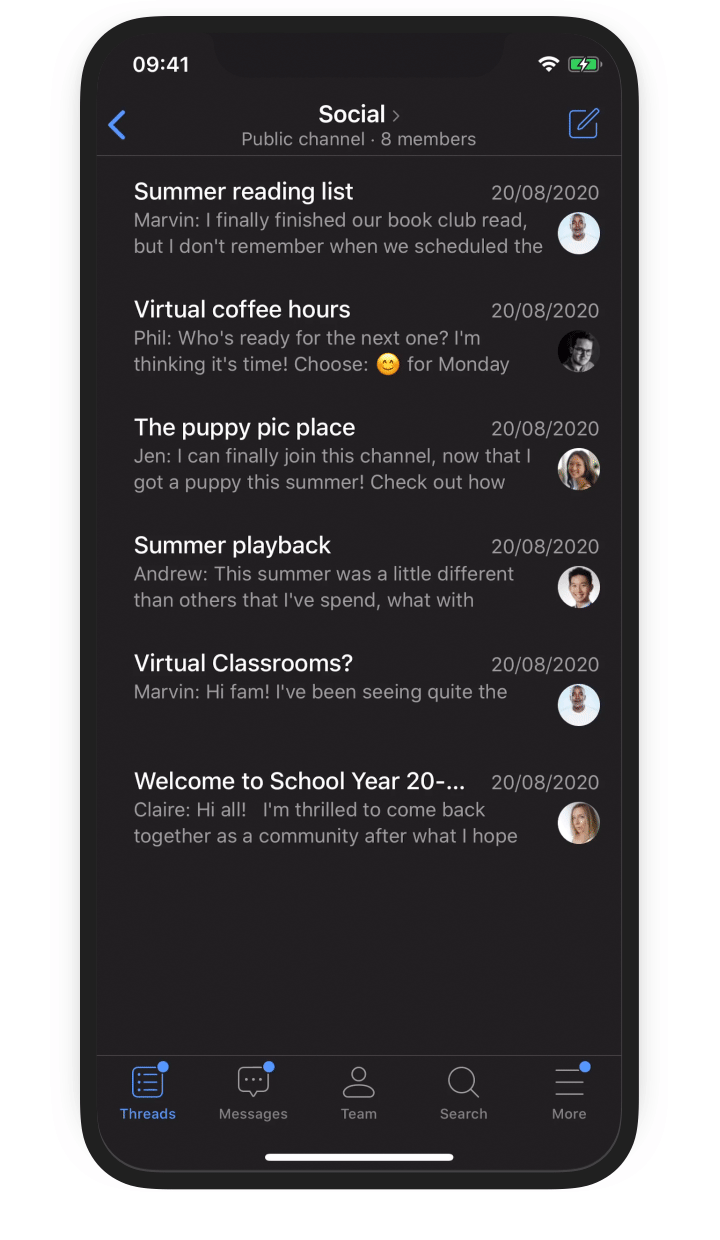 Onboard new members in a flash
A redesigned sign up, log in, and getting started process now guides new users so they don't get confused along the way — which means getting your next teammate into Twist will be a piece of cake. 🍰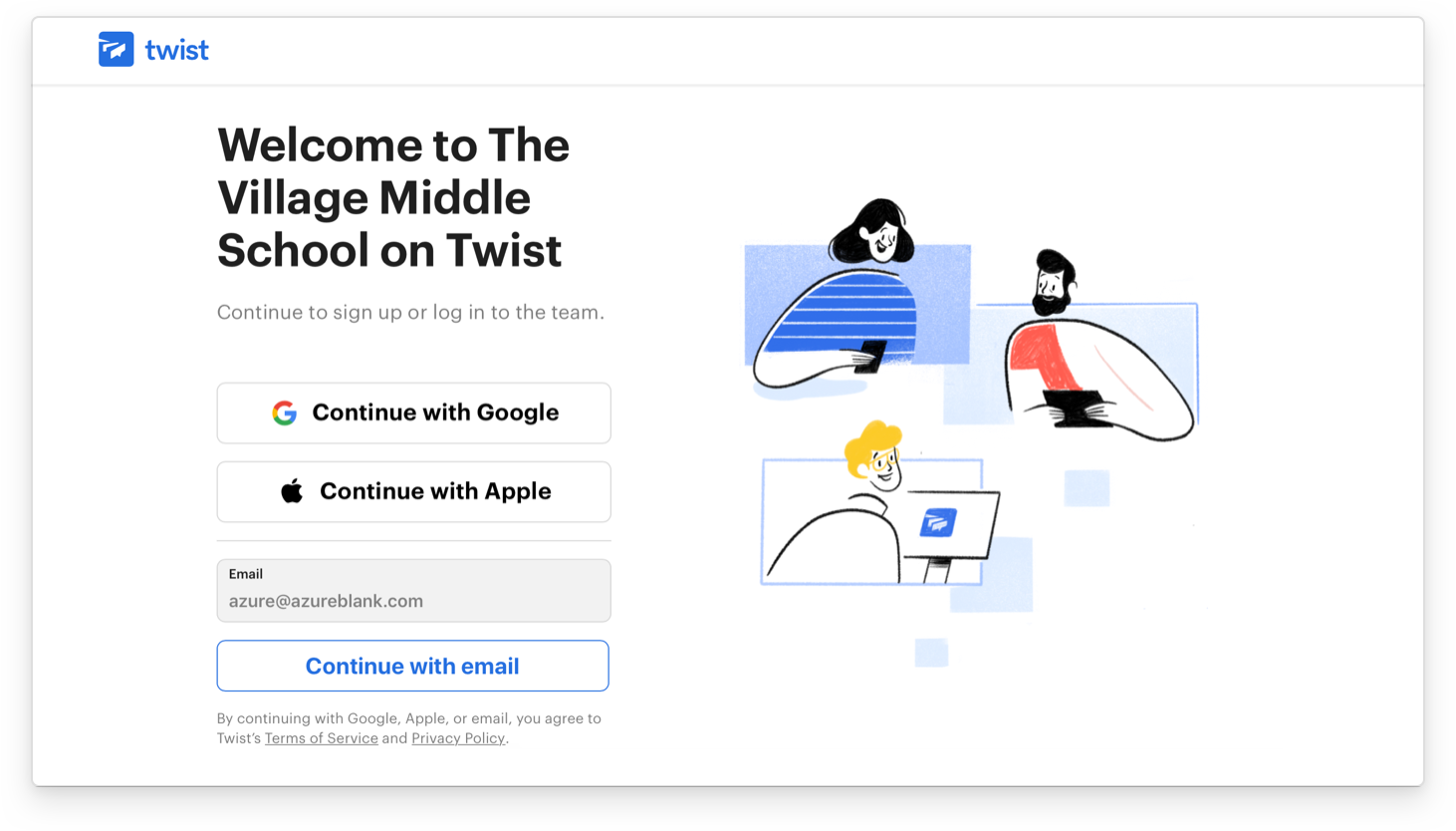 Did you know you can now sign in to Twist with your Apple account? That means one less email and password combo to remember.
Take a trip to the dark side
While the clearer, calmer communication you find in Twist can be a bright spot in your day, it shouldn't be glaring. With Dark Mode, you'll be able to enjoy a new shade of Twist — a nearly black background and light text that rests easy on the eyes.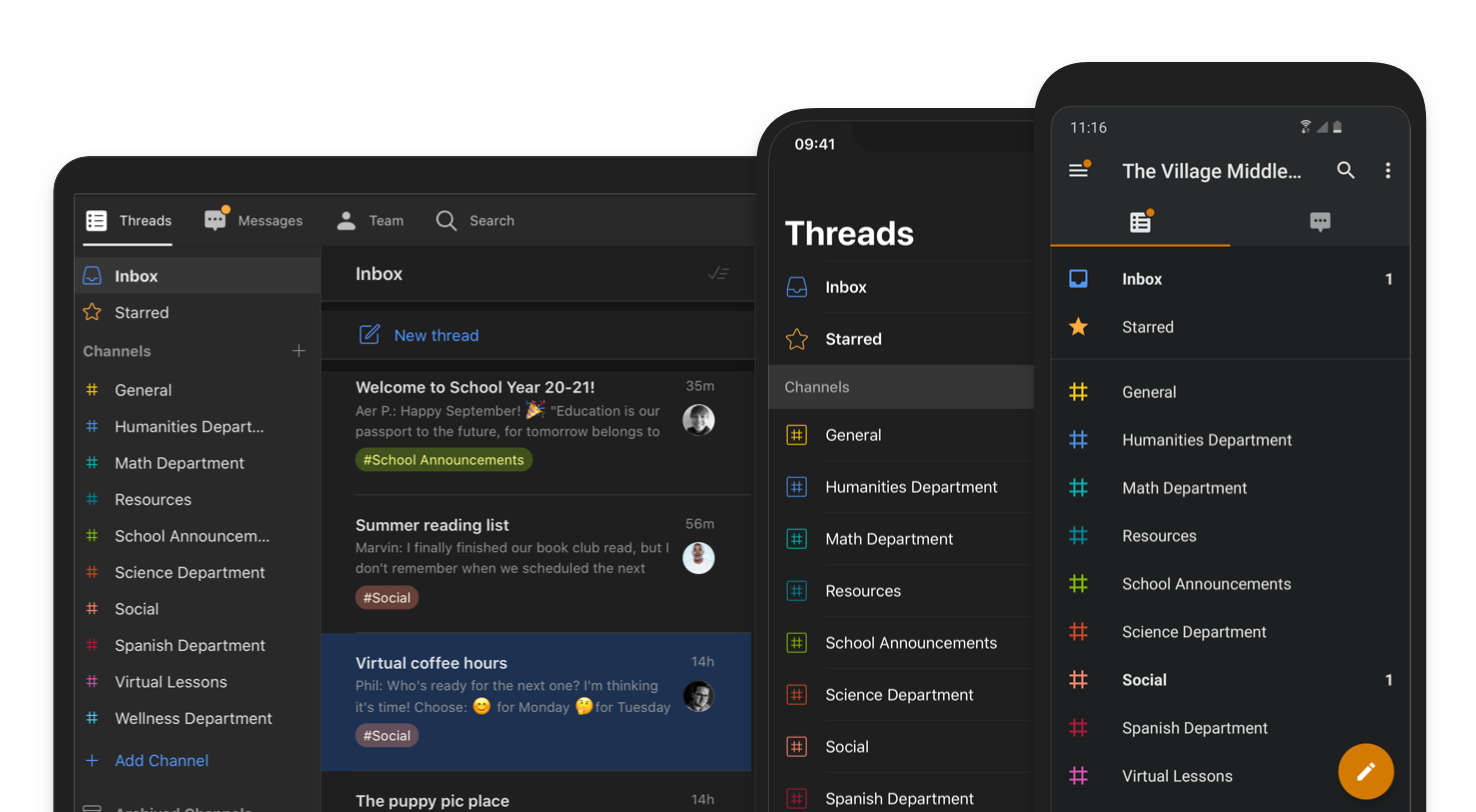 Experience speedier communication
Twist is much faster on the web, Android, and soon iOS, thanks to a new supercharged sync engine. Messages, reactions, and thread updates now reach your inbox in the blink of an eye — although just because you can reply instantaneously doesn't mean you should.
What's next?
We're betting you'll find more time for deep work with a few soon-to-come updates — like a smarter inbox thanks to machine learning experimentation, threads pinned to the top of channels, and the ability to mute any thread.
...
If you found this update helpful, you should subscribe to our blog, Ambition & Balance, for in-depth guides on asynchronous communication, working remotely, and more.