Discover the latest Twist updates and bug squishes on every platform here every two weeks.
Quick actions: Jul 13
Agendaless standups, brainstorming sessions gone long, and planning reviews that don't result in any plans — we all know how bad it can go when real-time, face-to-face meetings are the only option to collaborate.
Cut through the chaos of synchronous meeting culture with the async-empowering features of Twist's latest update. This update features new workflows that make collaboration possible while still preserving time for focused work. Who said you can't have the best of both worlds?
Compose conversations at turbo speeds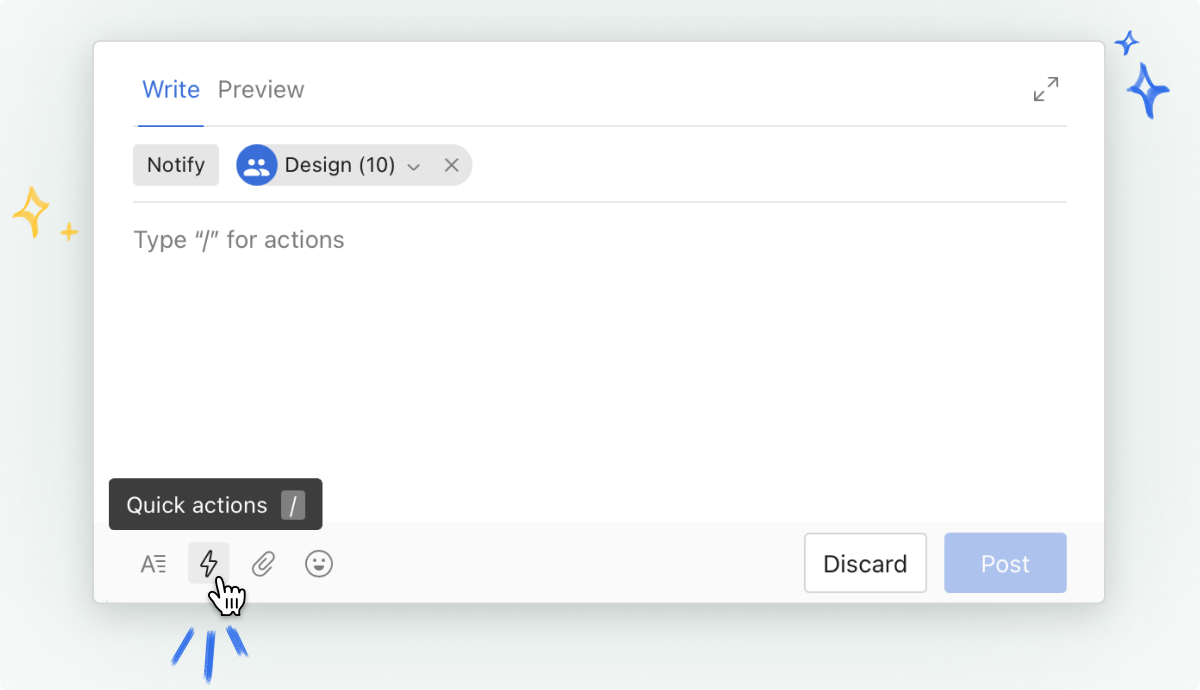 Faster communication and calmer collaboration equals more time for deep, meaningful work. All-new quick actions help you speed up message creation so you have more uninterrupted time to focus.
To do more, faster, try the quick action options by typing / in the composer. You'll be able to reference threads, add integrations, or insert a GIF.
Streamline meeting workflows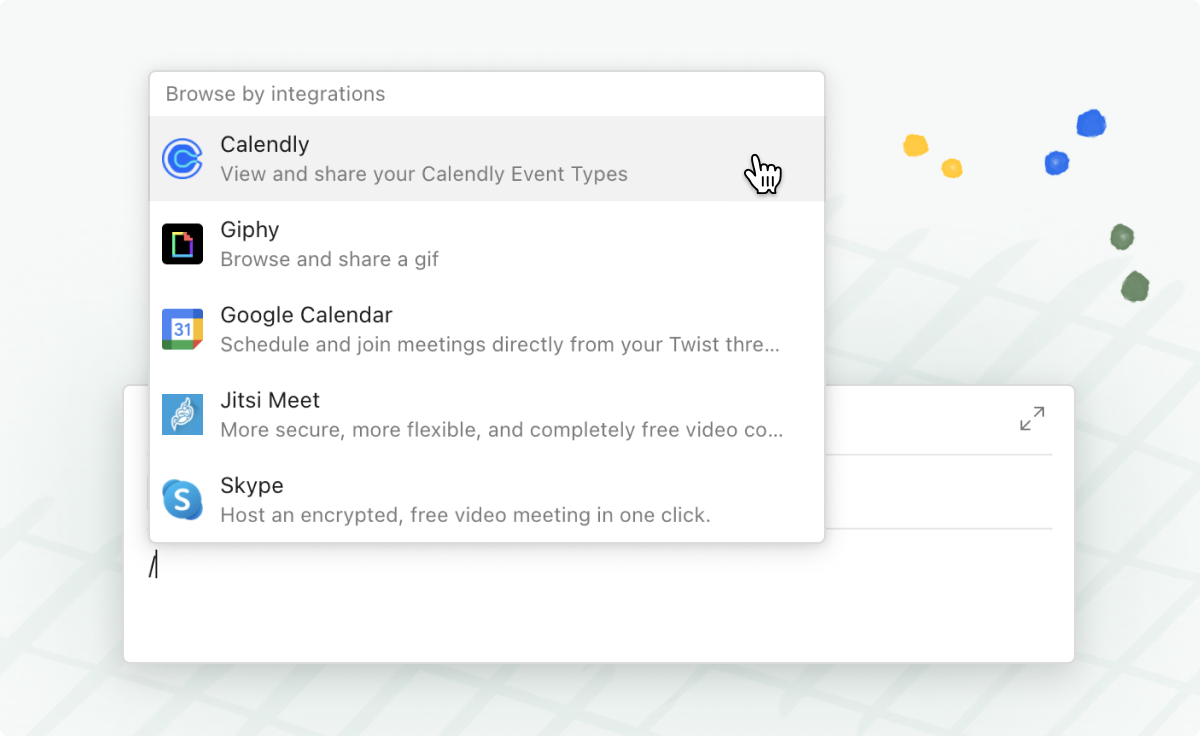 While Twist is designed for async communication, every now and then a sync meeting is necessary to build bonds or make time-sensitive decisions.
Now it's far easier to schedule and join meetings with the all-new quick actions plus all-new integrations!
Psst. Now you have the option to install integrations just for yourself or for your entire team (if you are an admin)!
Get every reference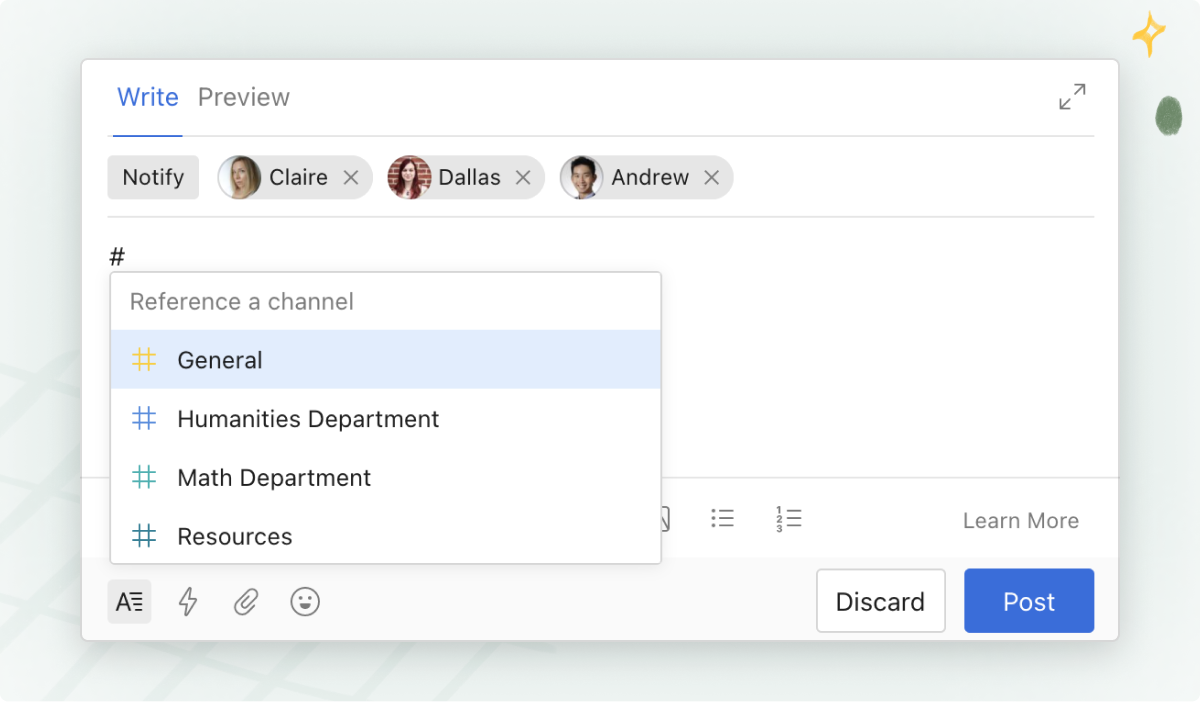 You are already automatically creating a browsable, searchable superbank of team knowledge with threads. Now, it's even faster to connect the dots.
Quick actions help point your colleagues to prior discussions, redirect conversations, or even provide inspiration! Simply select the lightning bolt icon or type / in your composer and search for the relevant channel or thread.
Quick link to any conversation
Promote flatter organization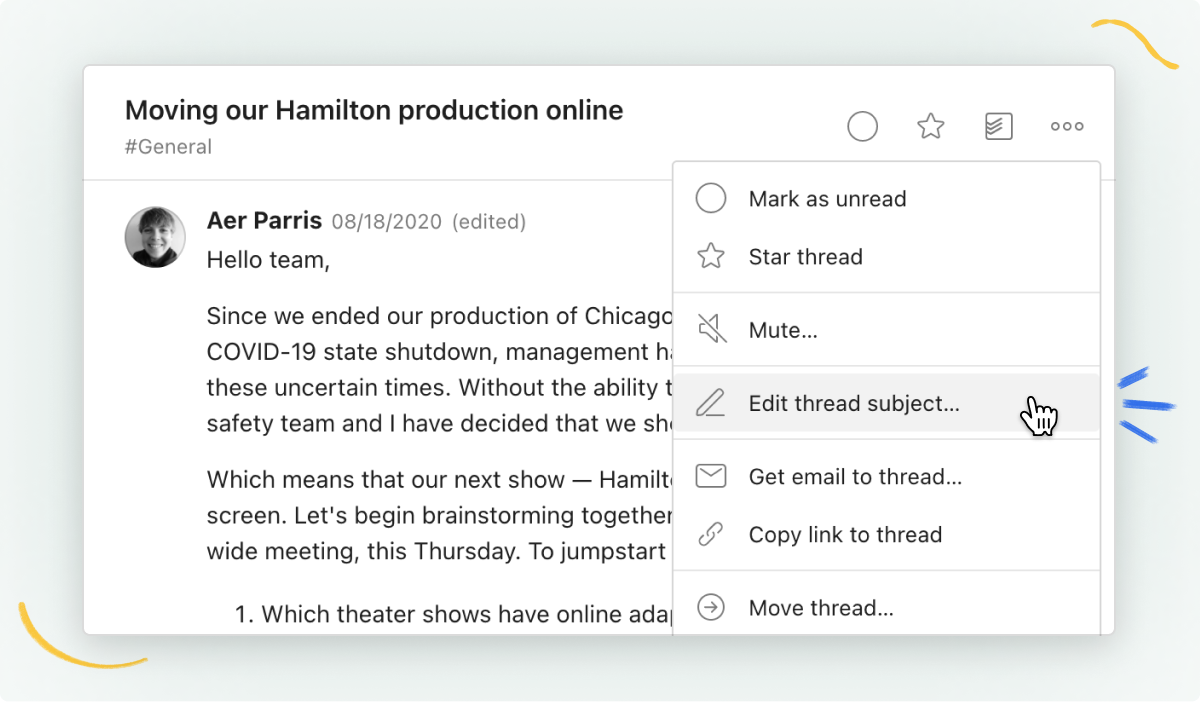 Open, transparent communication is another founding tenet of Twist. Giving everyone the power to make big changes to channels democratizes the app even further.
Edit the title of any thread — whether you created it or not. Fixing typos and making threads more searchable is a whole lot easier!
Change important parts of any channel, too. Update the name, color, icon, description, and default groups and participants even if you're not the channel creator.
Plus, move threads from channel to channel as you like. You'll no longer have to be an admin to tidy up your workspace.
P.S. You'll have to be a team member (and not a guest) in order to edit thread titles and channel information or move threads around at will. Plus, you'll be able to see which team members make edits and changes — to keep everything out in the open.
Get ready for something big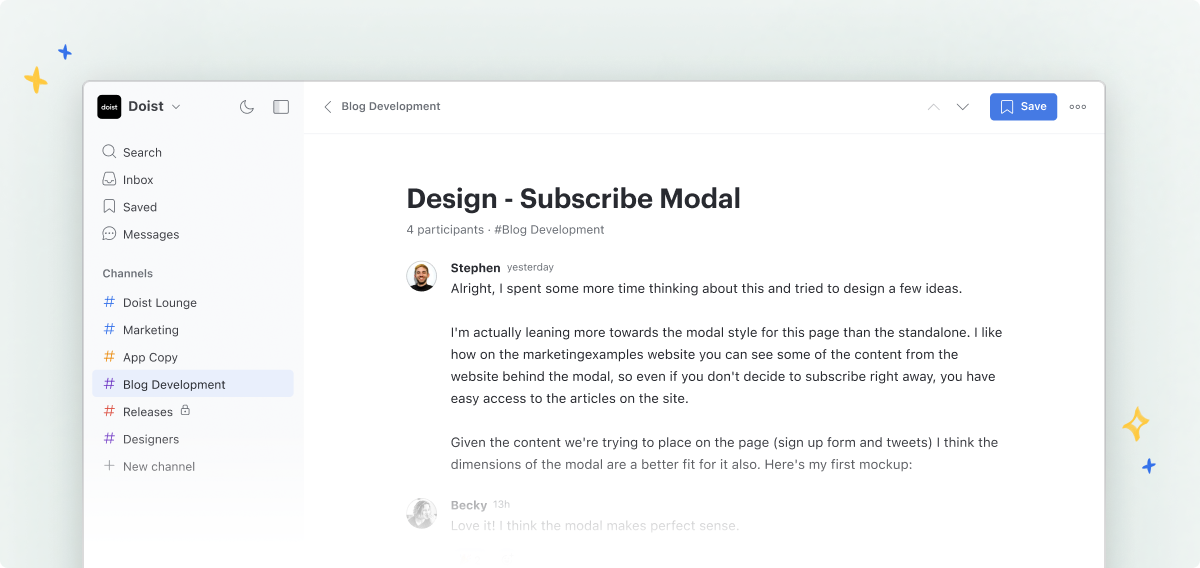 Are you ready for completely reimagined messaging for work? Twist is being rebuilt with new features and a feel that makes async work the default, so you have more time to focus, create, and then disconnect.
It's messaging optimized for the creator's schedule, not the manager's. It's communication that makes working from a distance easy, whether it's a choice or a necessity. It's a tool for people who crave focus and flexibility. And it's coming soon.
Plus:
Find curated advice and tips from We Are Async, the Doist-built community for people who are proud advocates of asynchronous communication and all of its positive benefits.
"Sorry, I'm too busy for anything important right now." Check out our latest comic: The Mere Urgency Effect.
Manage your Twist collaboration with these 14 must-read tips.
🐛 Minus web and desktop bugs
Find yourself right where you left off now that Twist scrolls you all the way down to the bottom of your conversation in messages.
Quickly add to-dos to Todoist right from Twist — now without funky formatting in your new Todoist task.
Keep all relevant information in one place by once again forwarding emails to a thread. That's thanks to this bug squash.
Twist's digital chiropractor has realigned pop-ups, buttons, and more.
🐛 Minus iOS bugs
Close or reopen a thread to view a delightful new icon. 🤩
Plus a little bit of reorganization to tidy up your settings.
🐛 Minus Android bugs
Close or reopen a thread to view a delightful new icon. 🤩
Stop snoozing or end your time off and Twist won't crash — so you can get back to work without missing a beat.
🔢 Versions
Web 1.17.242; iOS 21.7.0; Android 196; Windows 0.2.6; Linux 0.2.6; macOS 0.3.1.
Pin, mute, and link: Feb 23
In a year that's bound to be busy, make sure you're spending your time on the discussions that matter most with a handful of new features in Twist:
Put a pin in it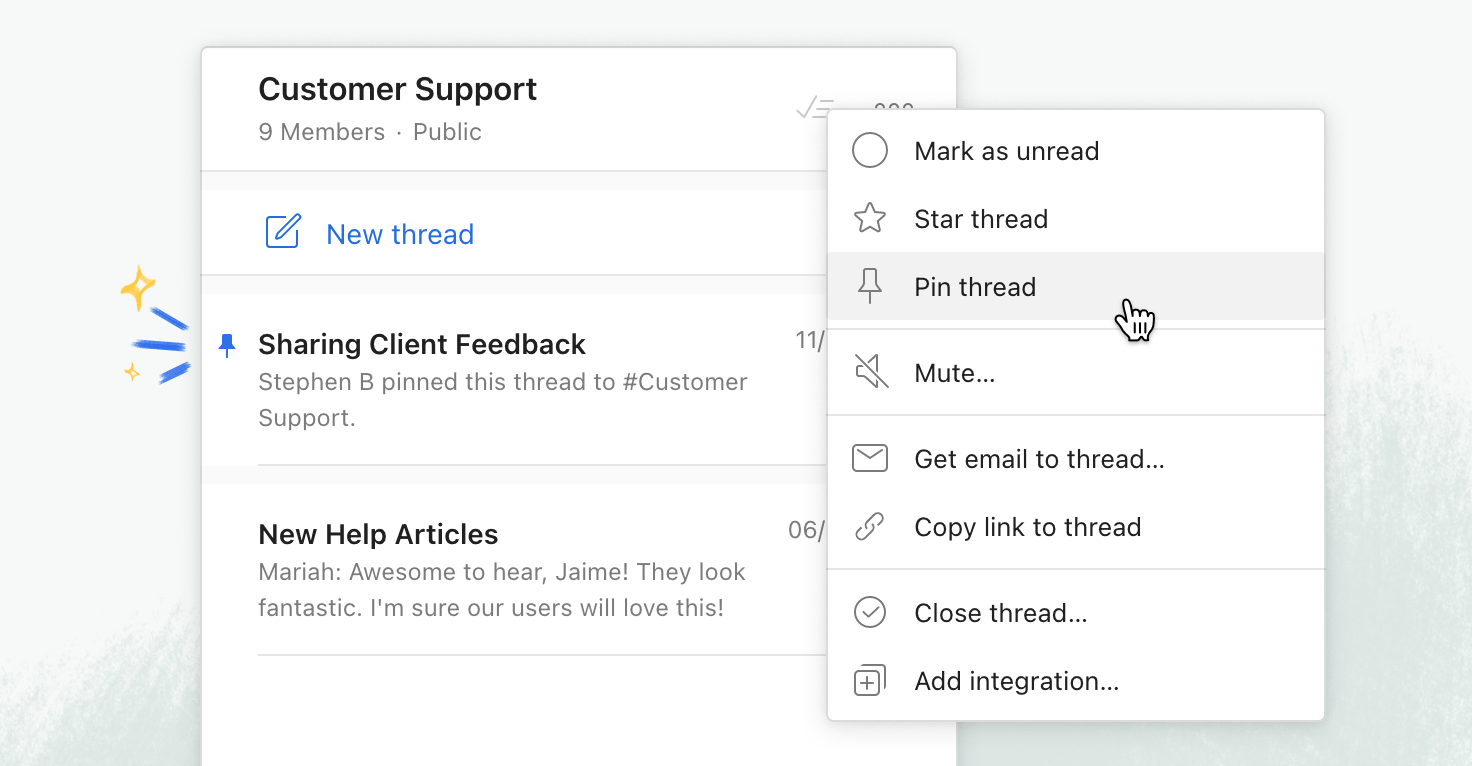 Some conversations are more important than others, so make sure your team doesn't lose track by pinning threads to the top of a channel. Simply open a thread, press the three dots icon at the top of a thread, and choose Pin thread.
No missing links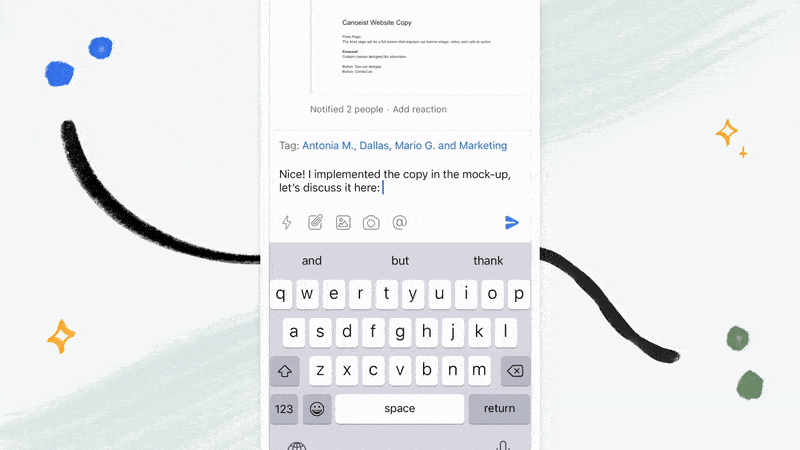 To make it easier to reference all the great ideas across your Twist workspace, you can now link to any thread or channel in seconds. Whenever you're writing a post, simply type / and choose the thread or channel you want to link to. (Or press the lightning bolt in your composer.)
The sound of silence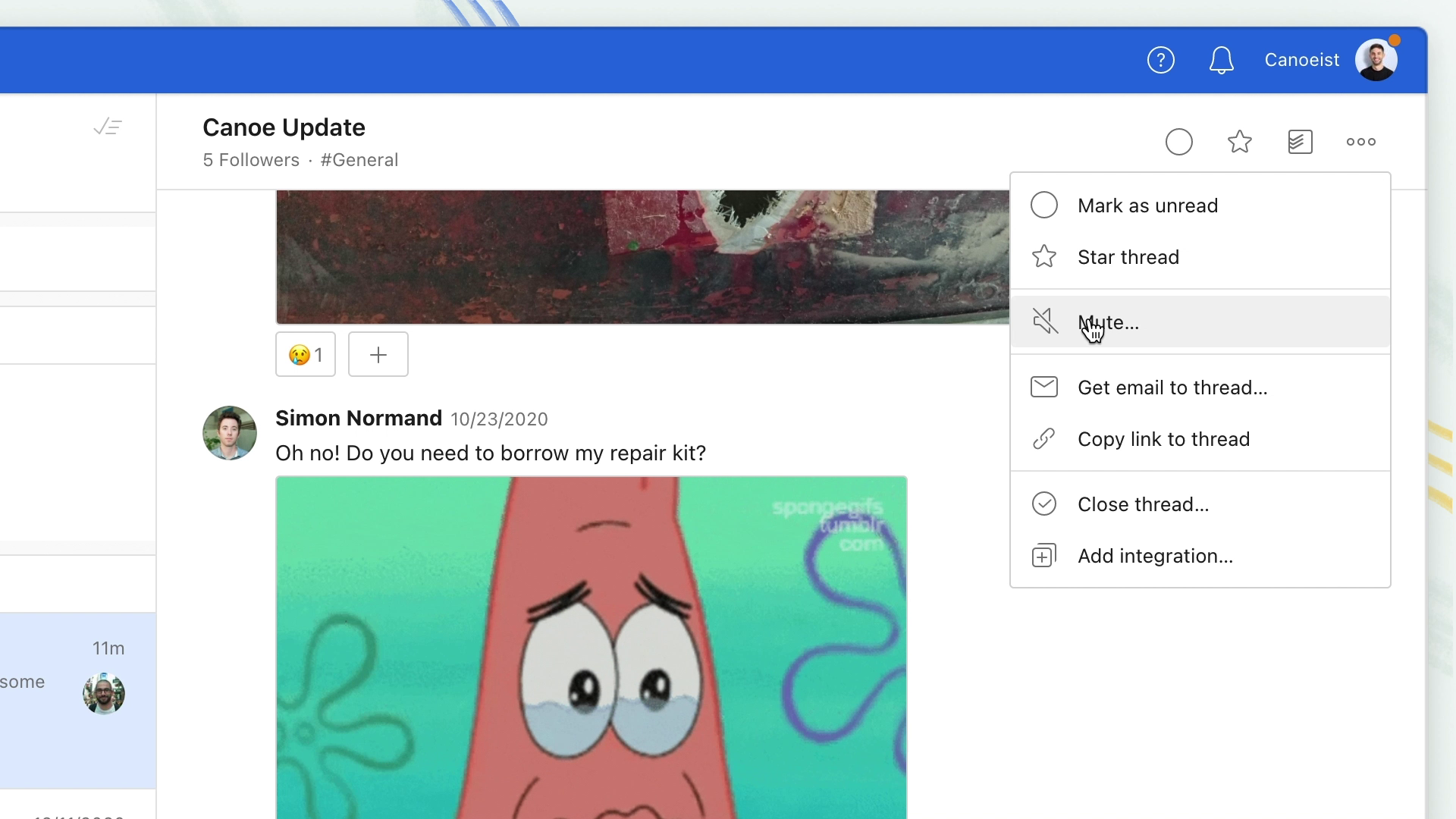 Focus is a rare commodity these days. To keep your Inbox (and mind) clear of distracting conversations, you now have the power to mute a thread. Simply open a thread and use the three dots icon and select Mute to turn off all notifications and Inbox unreads for the thread.
No more random reply-alls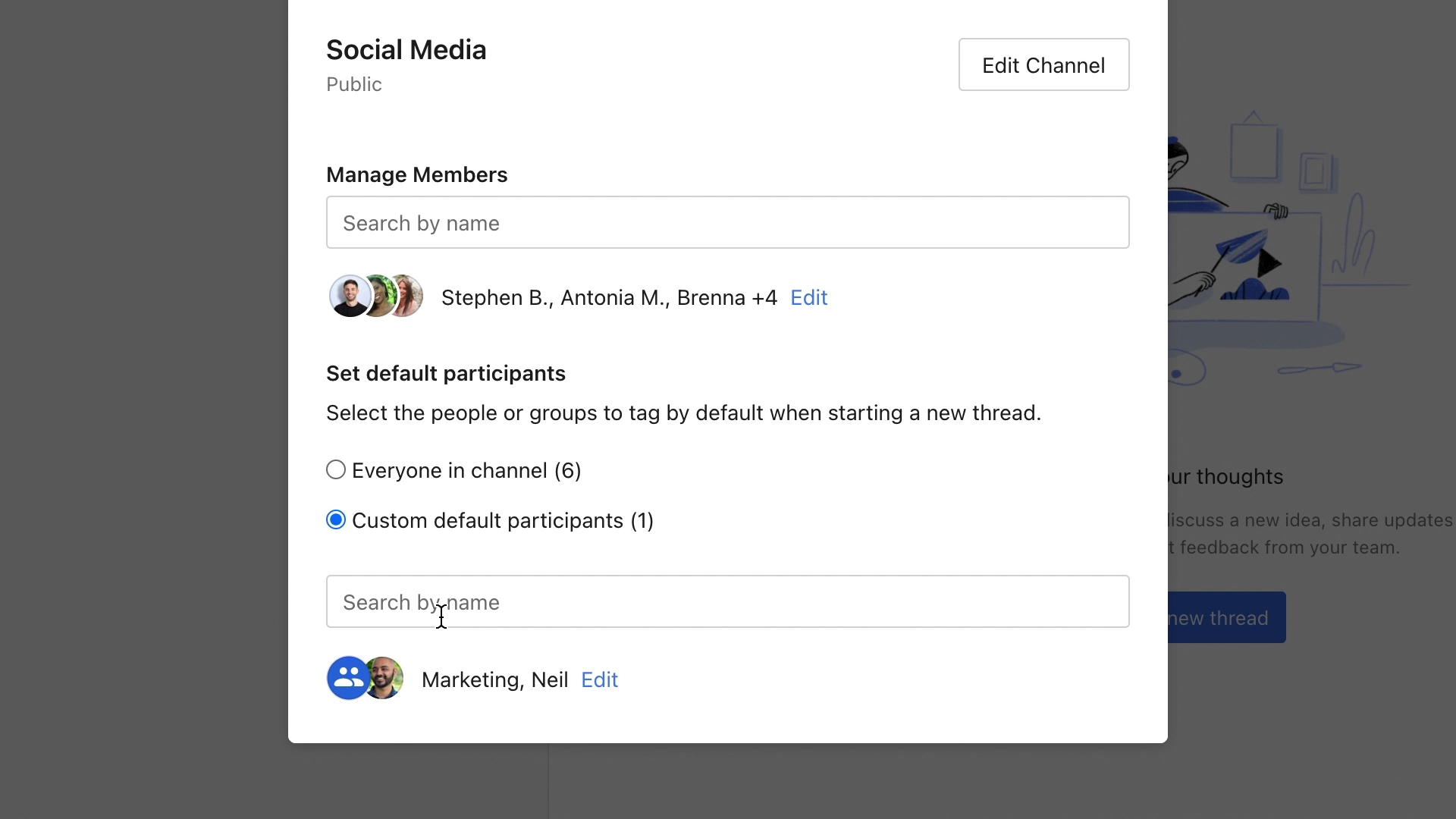 When someone joins a channel, they don't always know who should be included in the conversation. That's why channel creators can now select who will be tagged by default on every new thread. Simply head to the channel options (press the three dots icon on web and Android or tap the channel name on iOS) and then select your default participants.
Emotion, in motion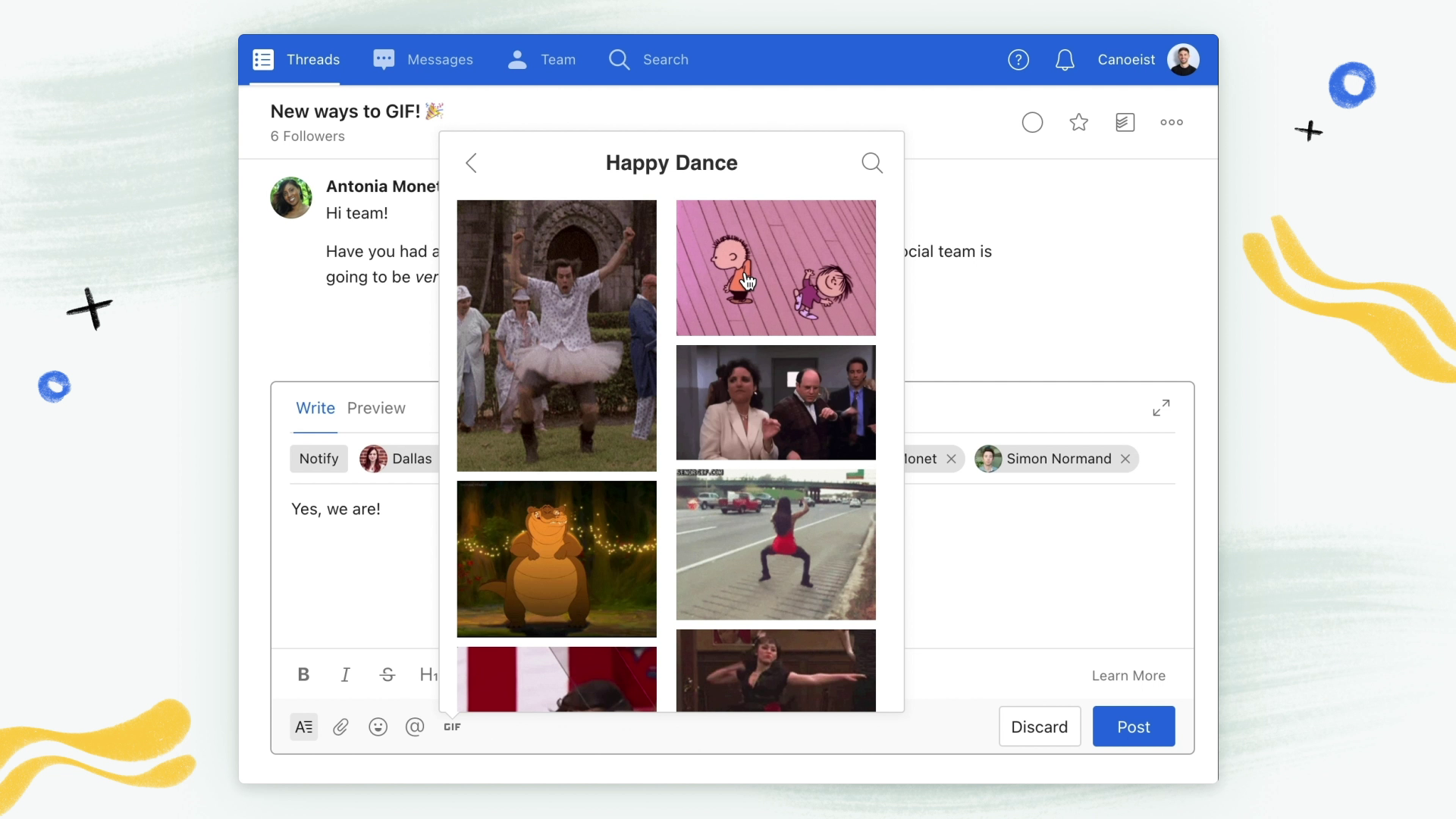 What better way to lighten someone's day by sending a GIF? It's now easier than ever: Just press the GIF button at the bottom of the composer. You'll be able to search Giphy's extensive list of animated magic and send it right in Twist.
In other news...
Upgraded composer: Sep 2020
Plus images where you want them, all new emoji reactions, and more!
One of the biggest advantages of Twist is writing compelling, thoughtful posts to your team (instead of rushed, line-at-a-time chats). Thanks to a handful of new updates to your composer and reactions, you'll now be able to express yourself more clearly than ever. 🤝
Get the complete picture before you hit Post on the web
Gone are the days of posting to a thread, then scrambling to edit it because it didn't look quite right. You can now craft, edit, and preview your posts in a much more detailed way thanks to Twist's new, fully redesigned web composer.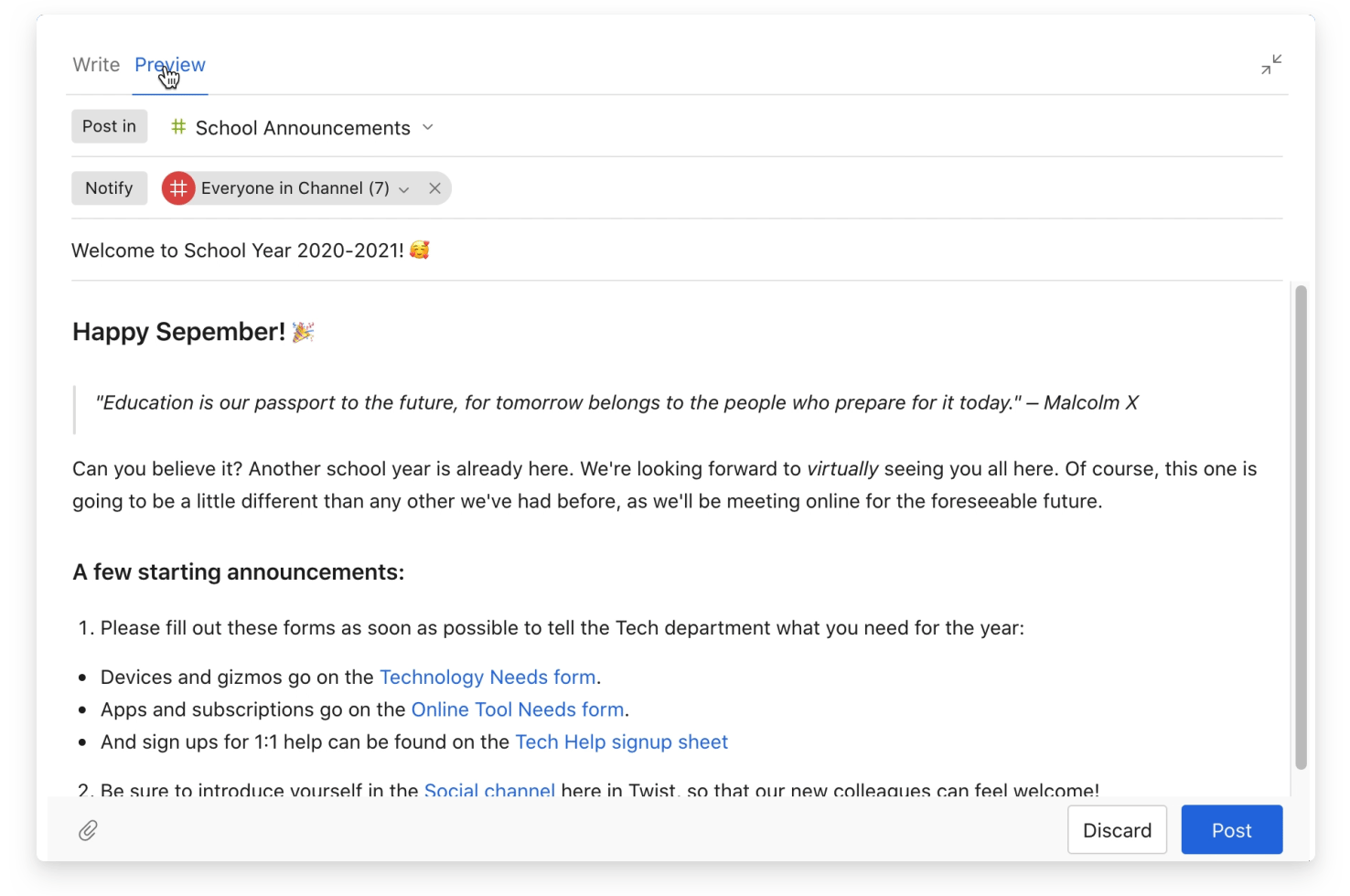 Include images right where you want them
You can now add useful graphs, screenshots of error messages, or photos of vacation escapades right in the middle of a post with new inline images on the web. Simply click the image icon from the new web composer's text formatting options and choose your file. Done.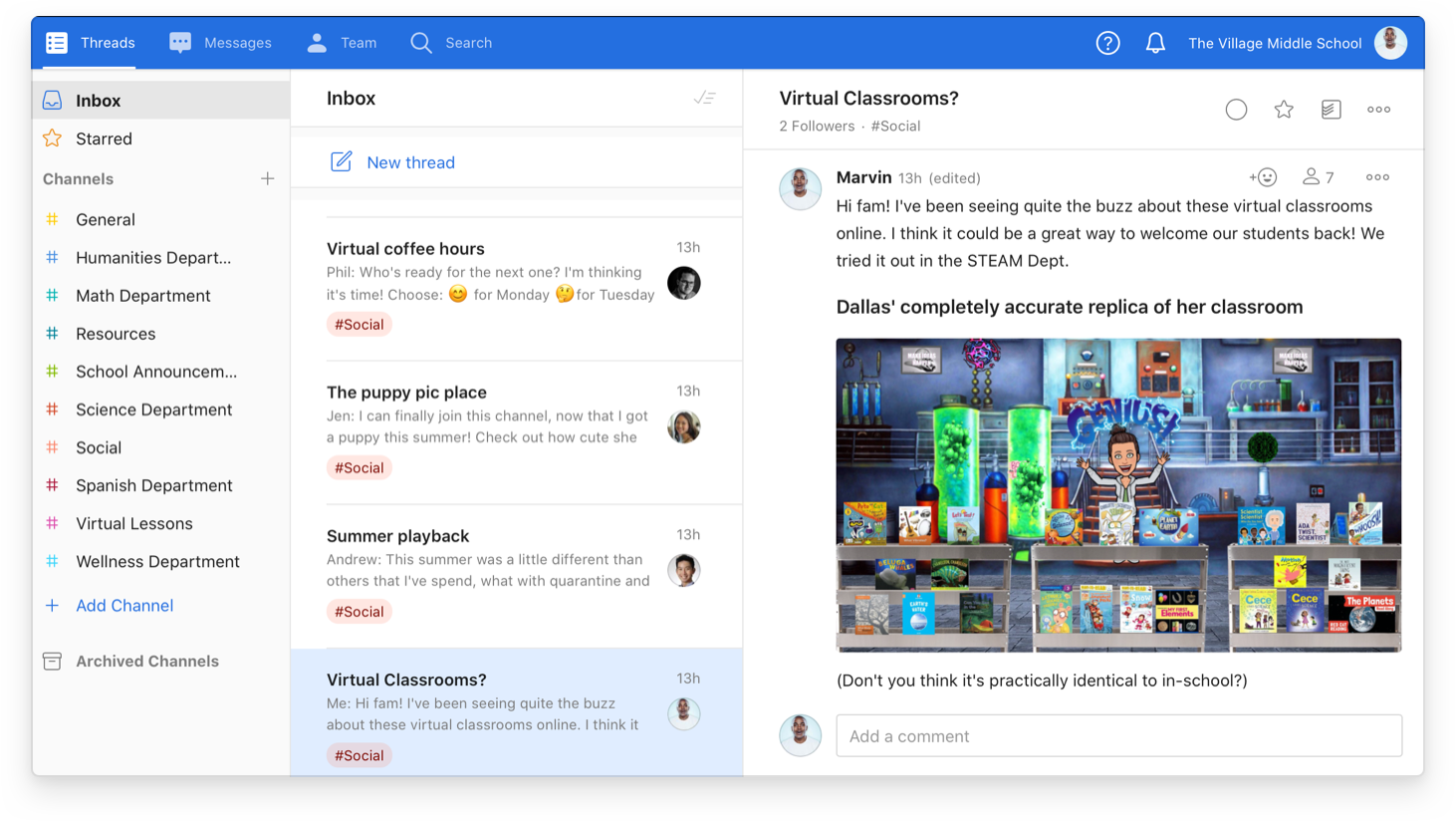 Use reactions to their fullest, funniest potential
Do you ever wish you could react to a spot-on idea with 🎯? How about 🛶 when asked for team retreat suggestions (for a non-socially-distant future)? Respond to your teammates' superbly formatted messages by adding way more reactions — you can now use literally every emoji in the book. 📚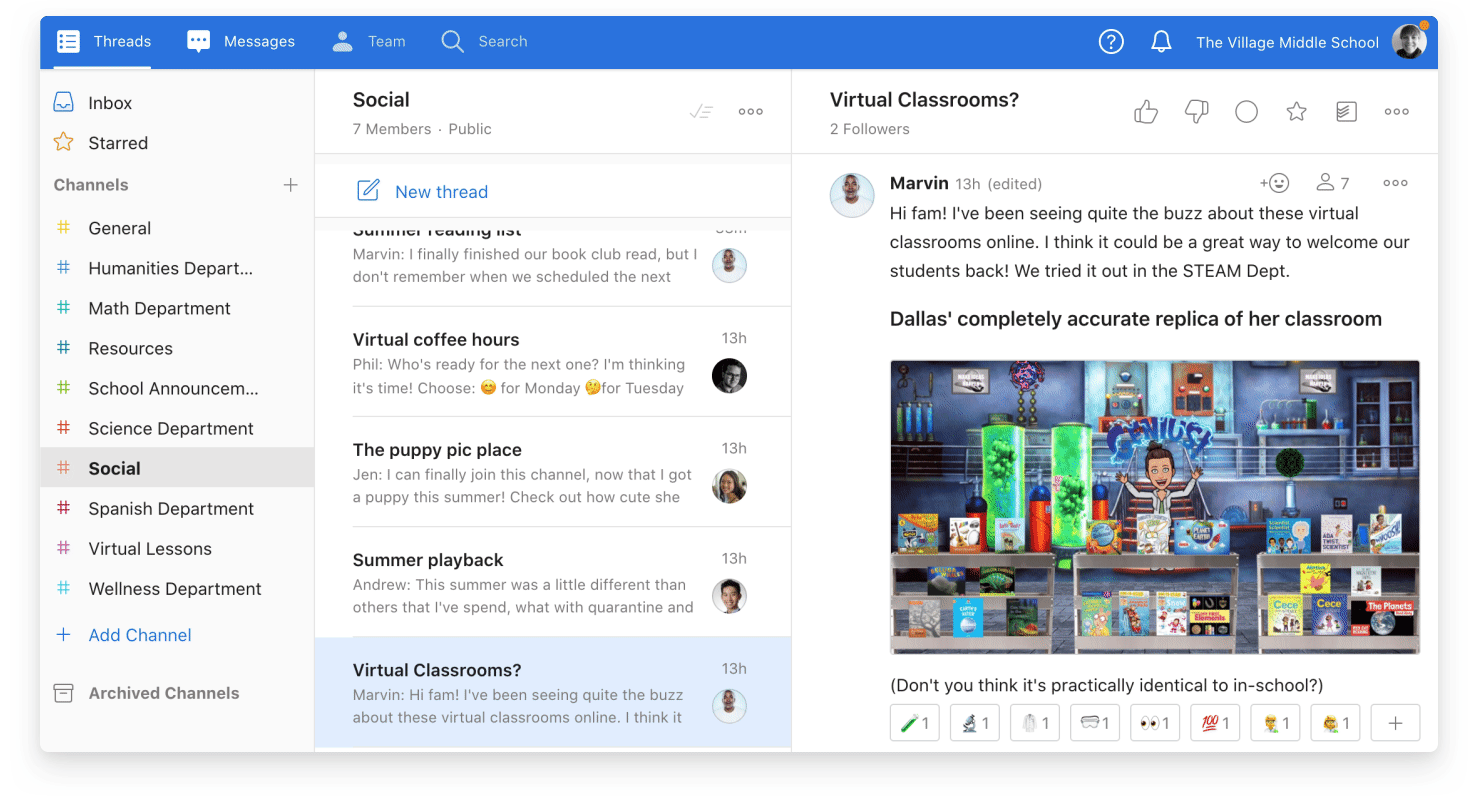 Edit more easily with new context menus for iOS
Speed up your on-the-go workflows with the new long-touch menu. On iOS and iPadOS 13+ simply touch and hold for a new menu which lets you mark messages as read (or unread), turn threads into Todoist tasks, get the link to any channel, and so much more.
Using your iPad with a mouse or trackpad? Right-click does the same.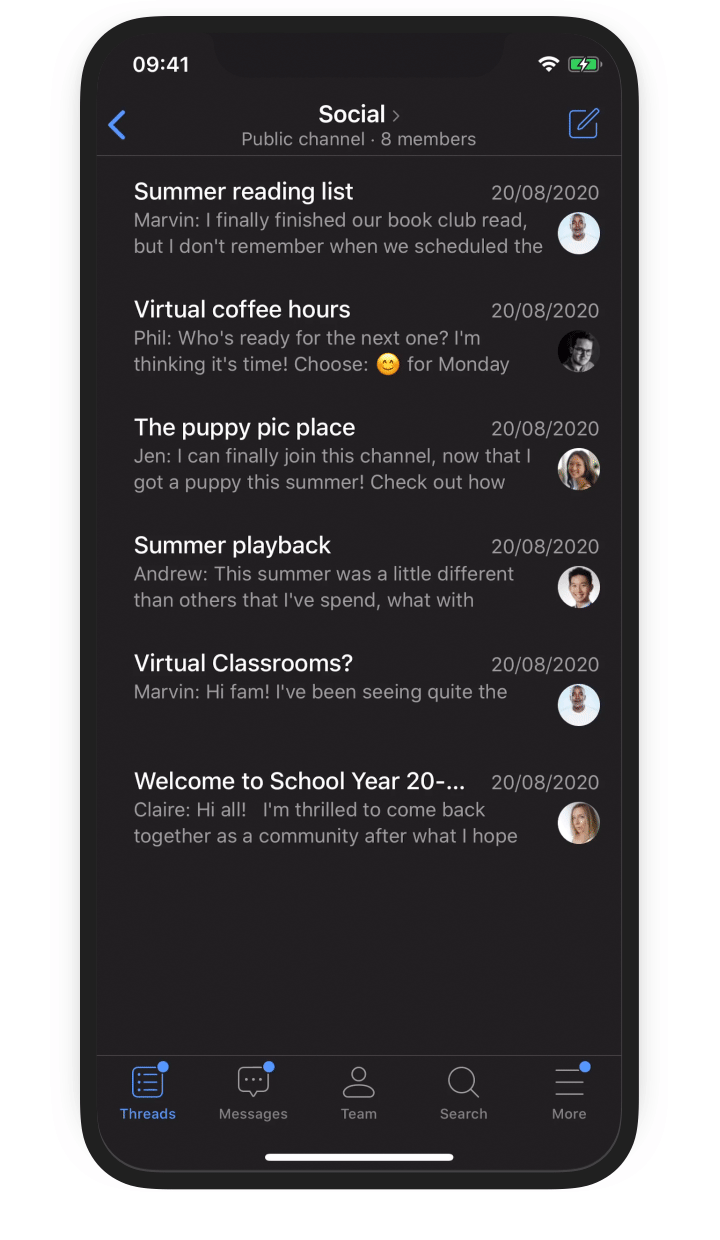 Onboard new members in a flash
A redesigned sign up, log in, and getting started process now guides new users so they don't get confused along the way — which means getting your next teammate into Twist will be a piece of cake. 🍰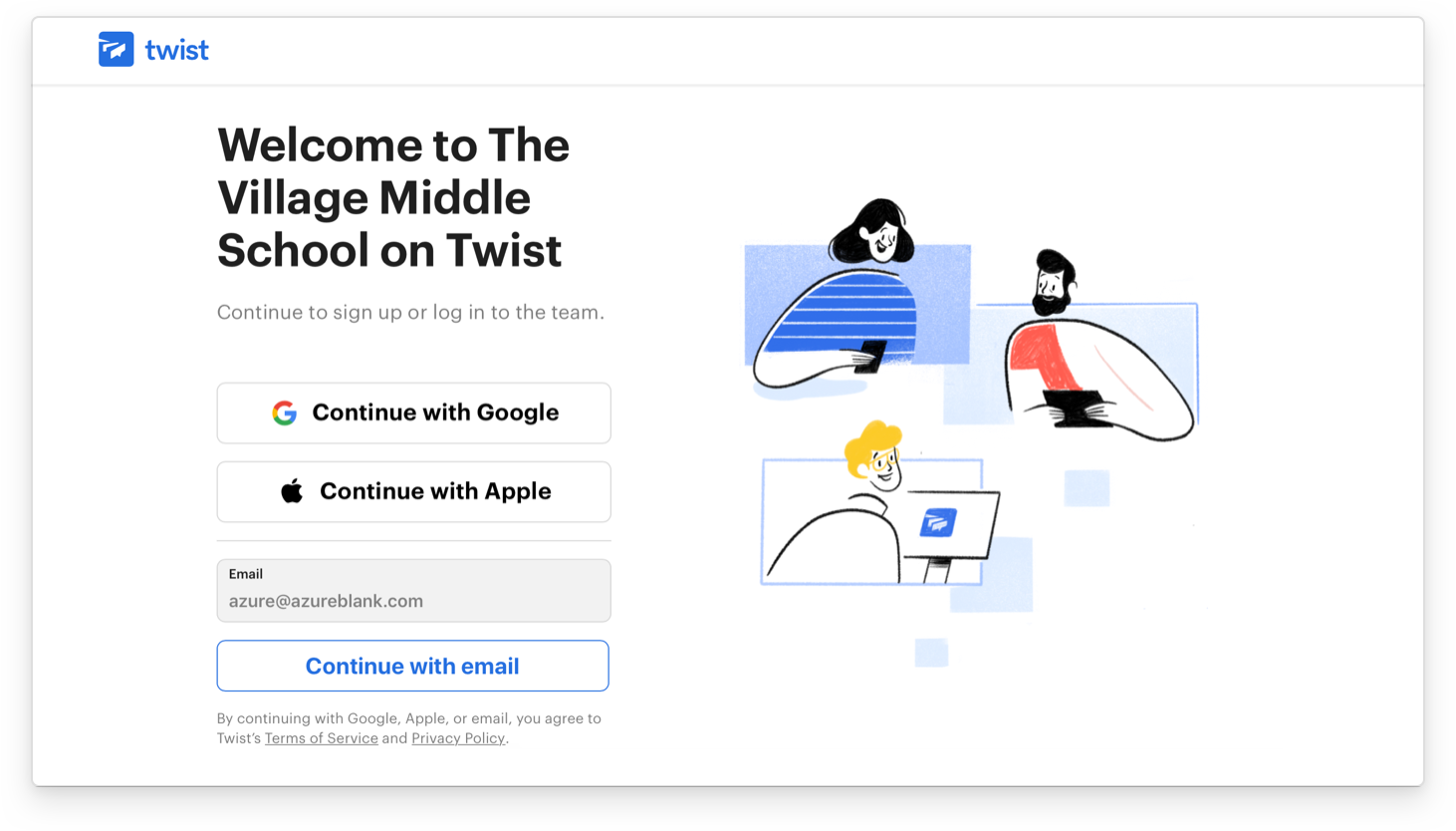 Did you know you can now sign in to Twist with your Apple account? That means one less email and password combo to remember.
Take a trip to the dark side
While the clearer, calmer communication you find in Twist can be a bright spot in your day, it shouldn't be glaring. With Dark Mode, you'll be able to enjoy a new shade of Twist — a nearly black background and light text that rests easy on the eyes.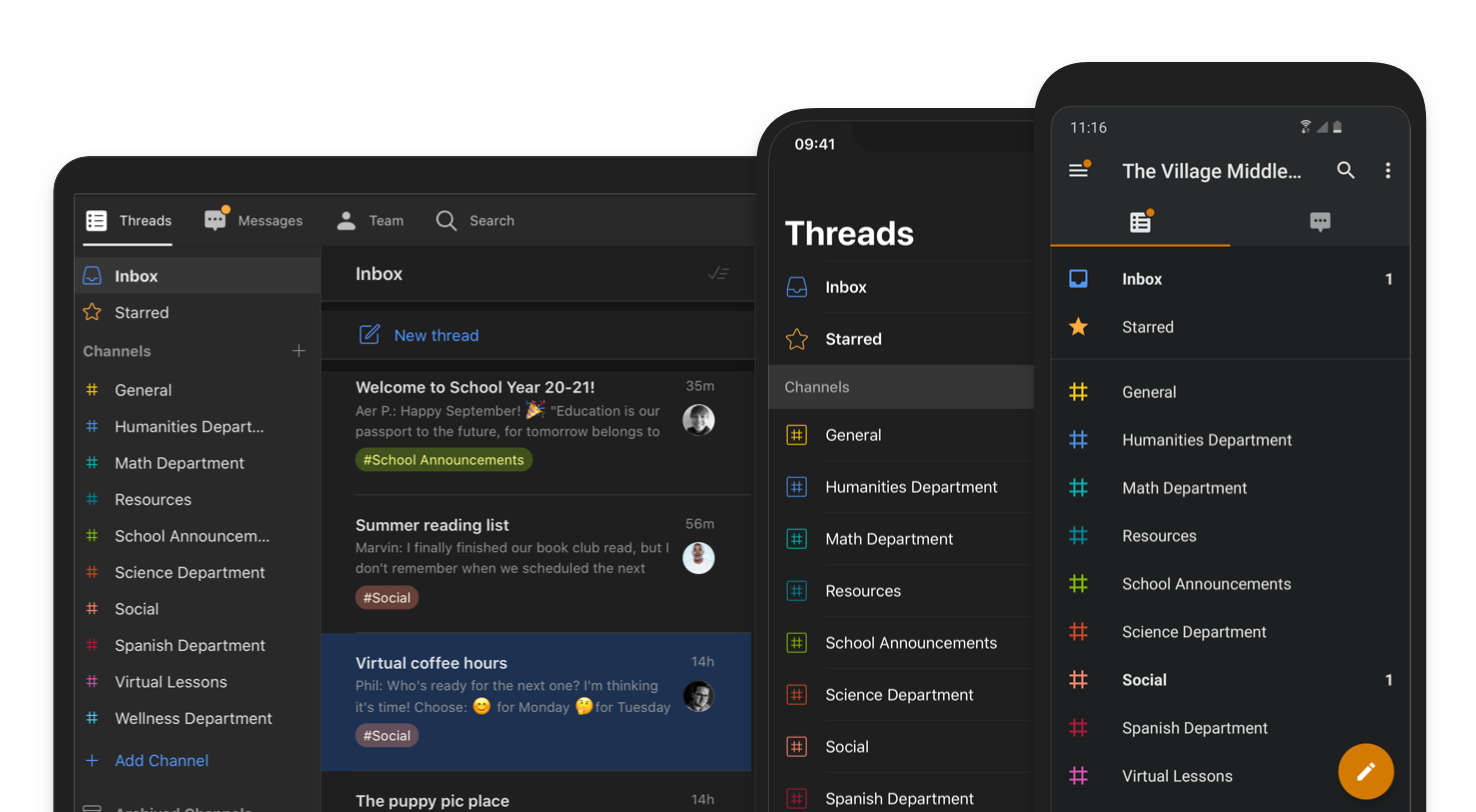 Experience speedier communication
Twist is much faster on the web, Android, and soon iOS, thanks to a new supercharged sync engine. Messages, reactions, and thread updates now reach your inbox in the blink of an eye — although just because you can reply instantaneously doesn't mean you should.
What's next?
We're betting you'll find more time for deep work with a few soon-to-come updates — like a smarter inbox thanks to machine learning experimentation, threads pinned to the top of channels, and the ability to mute any thread.
...
If you found this update helpful, you should subscribe to our blog, Ambition & Balance, for in-depth guides on asynchronous communication, working remotely, and more.